Mark Skaife is V8 Supercar Racing's answer to Eddie McGuire – a colorful character with multiple roles in his chosen sport.
For the better part of two decades, Skaife was the foremost driver in Australian touring car racing. When he came on the scene in the controversial Nissan Skyline GT-R – infamously known as 'Godzilla' for its dominance – he was initially a polarizing figure.
But after winning in a Holden Commodore to prove that it was the skill of the driver, and not just the car, that made him a champion, Skaife's image began to change.
Read more about V8 Supercar drivers
His career jumped to the next level in 1998 when he replaced Holden hero Peter Brock in the Lion brand's factory outfit – the Holden Racing Team.
Between 1998 and 2003 he won three V8 Supercar titles and never finished lower than third in the standings. He became Holden's new leading man in the wake of Brock's departure and 'Skaifey' became one of the most popular drivers in the sport.
Skaife hit the scene with the controversial Nissan Skyline GT-R.
During this time, he became a familiar face in Holden and Holden Special Vehicles advertisements and promotions.
Most famously, he set a Guinness World Record for fastest speed in a ute when he drove an HSV Maloo up to 277 km/h in the South Australian outback.
Skaife was not just a local hero or touring car specialist. He won three Australian Gold Stars (the highest honor for a local driver) when he won back-to-back Formula Brabham open-wheeler titles for Gibson Motorsport.
He made a short-lived attempt in Formula 1 by trying his luck in the 1992 International Formula 3000 series. He also made a start at the 1997 24 Hours of Le Mans with the Lister works team.
Since he retired from driving, Skaife has become the face of the sport on television, as a presenter and expert commentator for Channel Seven and more recently for Fox Sports.
Here's everything you want to know about Skaife and his career.
How old is Mark Skaife?
Skaife was born on April 3, 1967, making him 54 at the time of publication.
Where does Mark Skaife live?
He was born in Gosford on the central coast of New South Wales, but has lived in Melbourne for most of his career.
How much is Mark Skaife's net worth?
Given the private nature of V8 Supercar contracts, it is unclear how much Skaife is worth. An infamous 2009 newspaper report claimed he had more than $3 million in debt to racing entrepreneur Tom Walkinshaw related to Skaife's ownership of the Holden Racing Team.
However, Skaife has had a long career as a racing driver, racetrack design consultant and since 2009 as a television broadcaster – so he is thought to be worth several million dollars.
While his exact power is unknown, he has done well enough to be part of the new ownership group for the V8 Supercars series.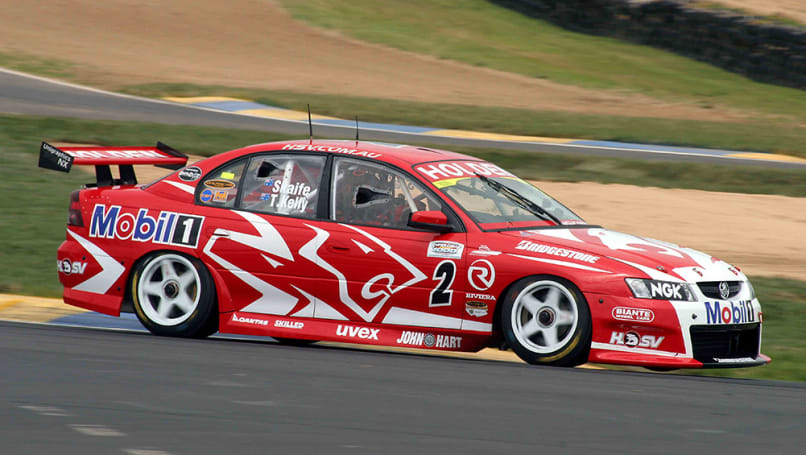 After winning in a Holden Commodore to prove that it was the skill of the driver, and not just the car, that made him a champion, Skaife's image began to change.
Who are Mark Skaife's parents?
His parents are Russell and Gay Skaife. He described his mother in a 2020 interview as "the highest work ethic of anyone I've ever experienced" and taught him his attention to detail.
Is Mark Skaife married?
Yes, Skaife has been married to Toni since 2004. This is his second marriage, he married his first wife, Belinda, in 1993, but the couple filed for divorce a few years later.
Does Mark Skaife have children?
Yes, he has three children. His son Mitchell is from his first marriage and he shares two daughters – Mia and Tilly – with Toni.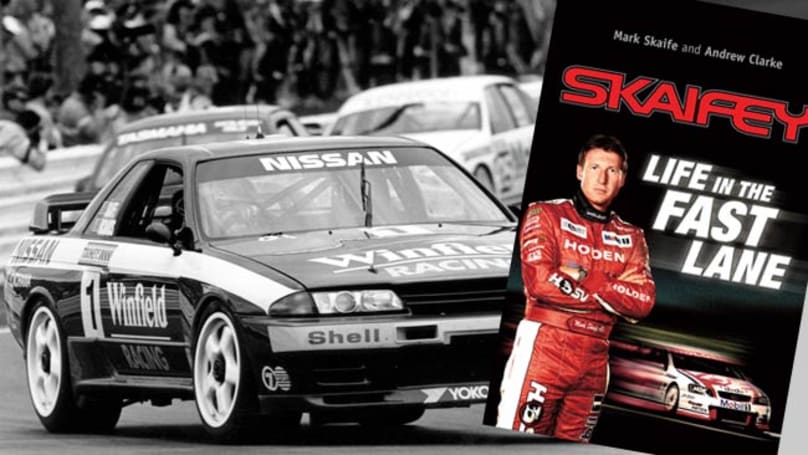 He wrote an autobiography in 2010 titled – Skaifey: Life in the Fastlane.
Has Mark Skaife written any books?
Yes, several books have been written about him. The most recent was his 2020 autobiography entitled: Mark Skaife: The Complete Illustrated Autobiography.
He wrote another autobiography with journalist Andrew Clarke in 2010, entitled – Skaifey: Life in the Fastlane – and in 2002 he published, Mark Skaife: Diary of a Champion.
Have there been any movies made about Mark Skaife?
There was a 2009 documentary about his driving career titled, Skaifey: The Story of Mark Skaife.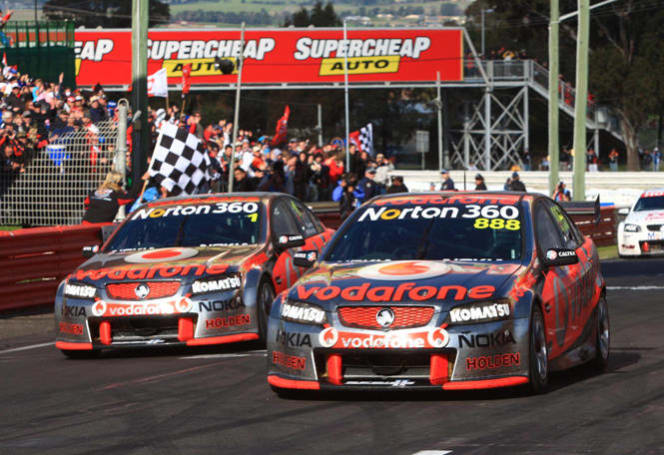 Craig Lowndes was both a teammate and a rival to Skaife.
Is Mark Skaife on Social Media?
Yes, he's on Instgram – @markskaife – and Twitter – @mark_skaife.
Which team did Mark Skaife drive for?
Skaife raced for most of his career with just two teams – Gibson Motorsport and the Holden Racing Team.
He drove for Gibson Motorsport – when it was publicly known as Nissan Motorsport Australia – between 1987 and 1992 in the famous Skyline GT-R.
When Nissan left the sport, Gibson Motorsport switched to Holden Commodores and Skaife stayed until the middle of the '97 season.
At that point, he was recruited by the Holden Racing Team (HRT) to team up with Peter Brock in what would be his last Bathurst 1000 start.
He then replaced Brock at HRT in 1998 and remained with the team until his retirement from full-time riding in late 2008.
When he became an endurance racer (participating only in the Phillip Island 500 and Bathurst 1000), he raced for Tasman Motorsport in 2009 before transferring to Triple Eight Race Engineering for 2010 and 2011.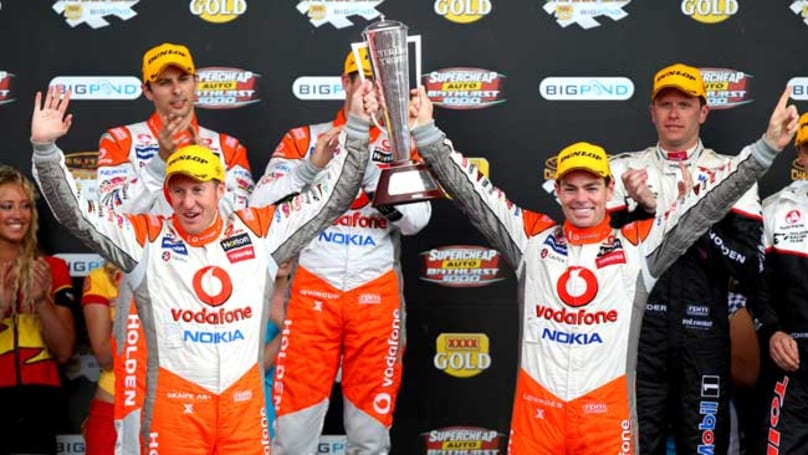 For his last Bathurst 1000 win, Skaife shared a Holden with Craig Lowndes for Triple Eight Race Engineering.
How many times has Mark Skaife won at Bathurst?
Skaife is a six-time Bathurst 1000 winner. He won his first two in 1991 and '92 by sharing a Nissan Skyline GT-R with Jim Richards.
Then in 2001 he won riding for HRT with Tony Longhurst. He teamed up again with Richards to win in an HRT Commodore in 2002.
His next win came in 2005, again with HRT, but this time with Todd Kelly.
Skaife's last Bathurst 1000 win came in 2010, when he shared a Holden with Craig Lowndes for Triple Eight Race Engineering.
Who was Mark Skaife's biggest rival?
Since Skaife was successful for an extended period, from the early 1990s to the late 2010s, he had many rivals.
Craig Lowndes was both a teammate and a rival, while Glenn Seton and John Bowe were opponents during Skaife's run in the 1990s. In the 2000s, Marcos Ambrose emerged as his closest challenger on track.
His most famous rival, however, is without a doubt Russell Ingall. The pair collided on and off the track with their most famous showdown in 2003 at Sydney Motorsport Park (then known as Eastern Creek Raceway).
The pair made contact on the track and Skaife was turned against the wall and out of the race. Skaife then waited by the side of the track for Ingall to come by on the next lap and walked over to his rival's car yelling at him.
The incident became known as 'The Shriek at the Creek' and both drivers were punished for their behavior.
How many Touring Car Championships has Mark Skaife won?
He is a five-time champion having won the Australian Touring Car Championship/V8 Supercars series in 1992, '94, 2000, '01 and '02.
He also took 90 race wins, 203 podium finishes and 41 pole positions in 479 races he started.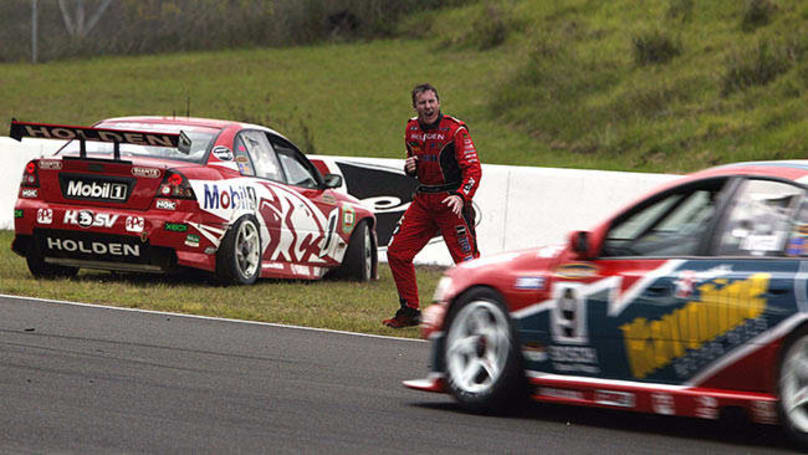 The 'The Shriek at the Creek' incident resulted in both Skaife and Ingall being punished.