Sitting comfortably in his living room on a bitterly cold January morning, trainer Dan Vella seized the opportunity to reminisce about his horse racing life, the life that began 50 years ago on the woodbine to withdraw.
With the 2021 Thoroughbred season in the rearview mirror and the 2022 oval campaign kicking off in Toronto in a few months, 66-year-old Vella spoke passionately and proudly of a career that still continues at a steady pace.
While certain names, both horses and humans, may escape his memories, it couldn't be clearer how it all started for the man with 860 career wins, where he currently stands and where he thinks he's headed.
"When people say things like, 'Remember when you did this in 1991?' "I don't always remember those things. My mind doesn't work that way, but I do remember a lot. And every time I remember those moments, it reminds me how lucky I was."
Vella's introduction to horse racing came through his uncle, a relative whose passion for the sport was soon noticed by his young nephew. Vella's first work with horses was not with racehorses, although he eventually made his way to the Woodbine backstretch in 1972, a wide-eyed teenager looking to perform in the thoroughbred world. He eventually became a groom.
Sign up for blood horse Daily
"I was taking care of Fabe Count, who raced against Secretariat at Woodbine in his last race, the Canadian International (G2)," recalls Vella. "It was exciting, but I think I was too young to really understand how exciting it was. It was a big deal. I still have a few win tickets. I bet a few dollars on the secretariat and kept the tickets with the text 'Big Red' on it. If I look hard enough, I could probably find three or four of those cards."
The sight of the Secretariat pulling away from the pack with ease, the fans streaming down the dirt track to see the champion in his front row in his final, the crescendo of the crowd grew as the brilliant chestnut made its way back to the circle of the winner… Vella remembers the sights and sounds as if it were yesterday.
A few years after his brush with greatness, Vella's career began to take off. The more he immersed himself in the sport, the more enamored with the training side, eventually starting his own training career, working for top owners such as Steve Stavro and Frank Stronach.
Wins, high-profile, soon became the norm. He was credited with his first bet win when Bert James won the Sir Barton Stakes in 1985.
Vella trained for Stronach between 1993 and 1998 and spent most of those years competing in the United States, where he Explosive Red to win the 1993 Hollywood Derby (G1T) and American Derby (G2T). Vella also excelled at Woodbine, punctuated by his 1994 Queen's Plate triumph with: Basque.
Vella was named the Sovereign Award as Canada's Outstanding Coach in 1994 and repeated this feat in 1995. After parting ways with Stronach Stables, he remained in the United States before returning to Woodbine in 2003.
"Basque is one of my all-time favorite horses. He was very talented, but very handsome. He was a tough horse. He won the Durham Cup three or four times. He was a medium bred horse, but he is a very good 1 "As talented as he was, he had a great focus. Over the years you've got horses that are talented and others that are overachievers. He was both. He didn't miss much. He went in, out, around, in front – he could do anything. He won the plate, came second in the Prince of Wales and won the Breeders'. Just a great horse."
Other stable stars Vella has campaigned for include: King Ruckus, Wild Zone , Everything has become firmer, Miners Mirage , and Mysterious . He also had six Breeders' Cup starters, although they were all off the board.
In 2012 he sent Strait of Dover to win the Queen's Plate, a leading score developed by jockey Justin Stein on a rainy, gray day in Woodbine.
(LR) Owner Wally Leong, jockey Justin Stein and trainer Dan Vella hold the Queen's Plate trophy after a win in the Straits of Dover in the 2012 race
"It was a mess that day, but you don't remember it that way. You're there and it's pouring… I felt bad because the owner's elderly mother was there, and she was soaking wet. We all were "When you have a win like that in that kind of race you don't really care what's in the air. It was a great ride from Justin and just a great day all around."
There have been other triumphs than the two Plate crowns.
Last year Vella sent out 13 winners out of 97 Woodbine starts, including stakes winners Marie MacKay , The Minkster , and Where is Neal .
a son of english channel , The Minkster capped off a sensational rookie campaign with a win in the 118th running of the Coronation Futurity, a key race en route to the Queen's Plate.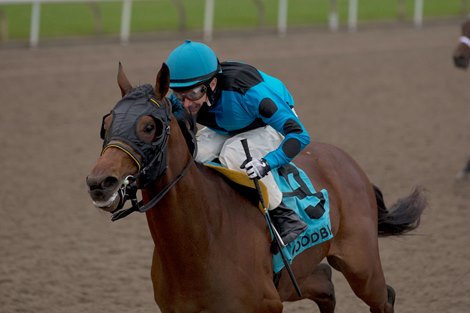 The Minkster wins the Coronation Futurity 2021 at Woodbine
"We have some nice young horses in the stable and we hope to be able to run some big races. It's nice to have good horses and it makes getting up a bit easier for everyone in the stable. All different. Horses , they can bloom at different times, but we're lucky to have them with us."
Vella is grateful when he talks about his golden jubilee in racing.
"Fifty years… it's hard to believe that time has gone so fast. I can say that I am very proud of my career and I can also say that I have had good help over the years. Steve Stavro and Frank and Frida Stronach have been fantastic for me and my career. They have changed everything for me. I've always been lucky enough to be someone that others could trust to train their horses. That's a big thing.
"These people invest in their horses, they breed them, they put their love into them – there's a lot of emotion involved. It's more than just money. I've always felt that I've been very lucky to have good horses in my I learned a long time ago – I don't take anything from horse trainers – that a good trainer is quite simple. You just need great horses. Great horses do great things, they make careers and they make us very happy."
And make no mistake, Vella is happy. Happiness is a word he uses often.
"Looking back on my career, I'll never forget how lucky I am. To win two Queen's Plates… for a Canadian trainer, born and raised here, raised on horse racing, I don't think it gets any better. To be honest, for a young kid working on the track is what you dreamed of winning the Queen's Plate."
This spring, the hoofbeats return on the Woodbine track, preparations and plans for his stable begin, and the pursuit of more wins will be at the forefront of Vella's mind.
But for now, if only for a moment, the chance to look back in time is a welcome distraction from the cold and snow.
"Sometimes I flip through pictures and wish I had more pictures of races with stakes and things like that. When you look back at the pictures of the horses, you remember the wins, but you also remember their personalities. It's great to look back and remember those moments. It's really fun."
.