After I had the chance to test the Garmin Descent Mk2 dive computer, I fell in love with it and wore it on my wrist every day. I absolutely loved all the diving and fitness tracking features, but my only issue with wearing it every day was the size. I have very small wrists and the size of the Mk2 was sometimes overwhelming, both in looks and function. When I heard about the upcoming release of the smaller Descent Mk2s in three different colors I was absolutely thrilled and jumped at the chance to review it!
First impression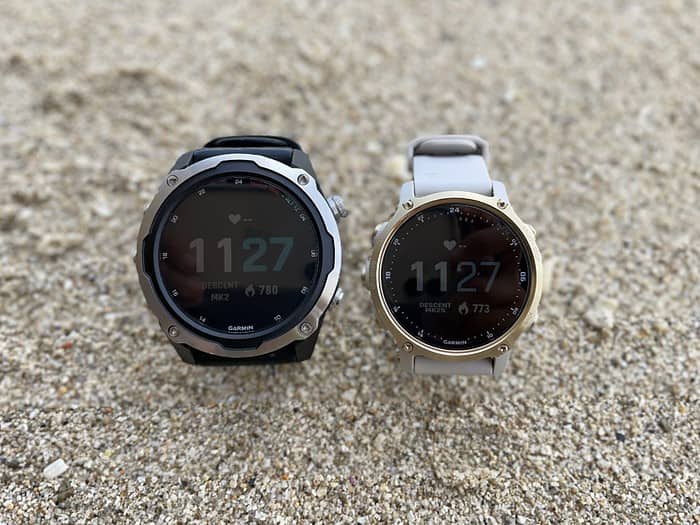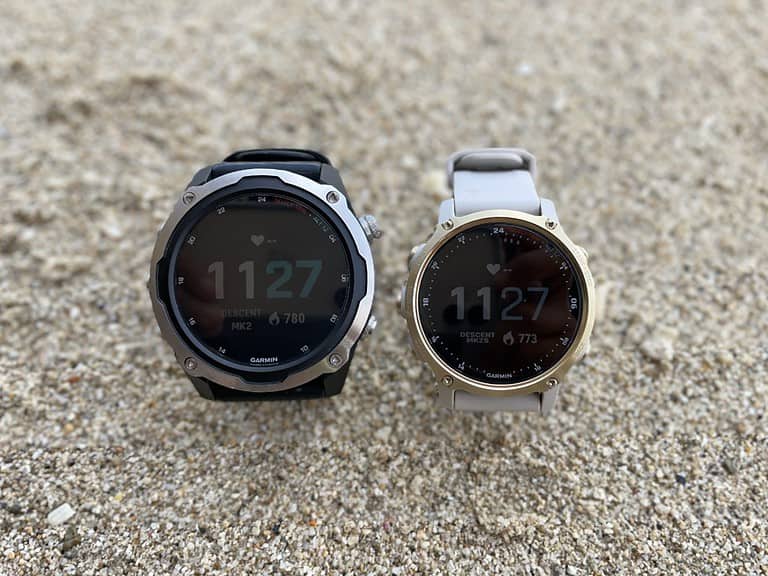 The Descent Mk2s is noticeably more compact, with a 43mm case size (compared to the Mk2's 52mm case size), which is great for those with smaller wrists or divers who prefer a sleek dial. It comes with three color schemes to choose from: Carbon Gray DLC/Black, Light Gold/Light Sand and Mineral Blue/Sea Foam. It's also much lighter than its predecessor – 60g (2.1oz), which is a whopping 43.8g (1.5oz) less than the Mk2. I barely feel it on my wrist and I no longer accidentally press a button when I bend my wrist.
I chose the Light Gold/Light Sand color for myself, which isn't exactly white, but more muted. I'm especially grateful for this because I think it looks more stylish and sophisticated than a traditional combination of gold and true white.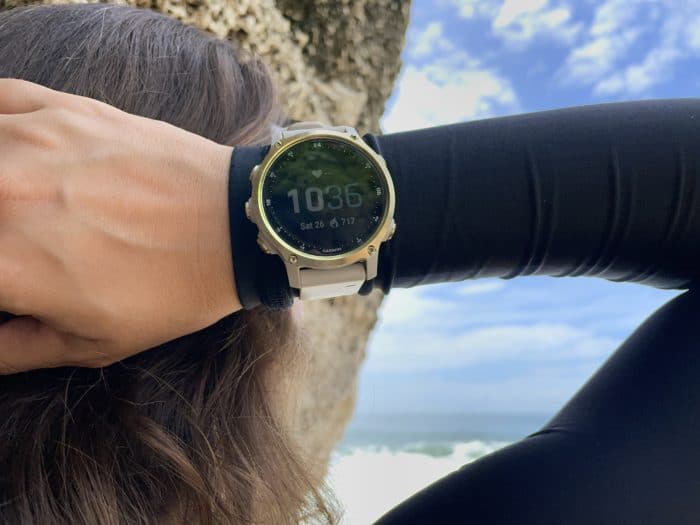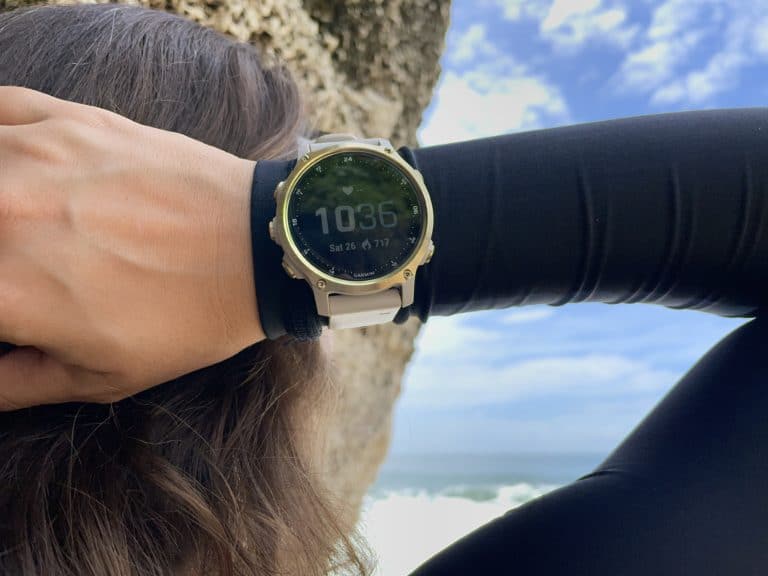 The interface of the Mk2s hasn't changed at all, which I'm very happy with. I love the fully customizable watch faces that let me choose between watch date, day of the week, heart rate, steps, weather, battery, etc., and many different colors and themes that I can download from the Connect IQ™ store. The silicone strap is also QuickFit™ compatible, so I can change the watch strap quickly and easily. The menu and button placement may take some getting used to for a new Garmin user, but after a day of playing around with all the features it becomes very familiar.
Notifications, Alerts and Logs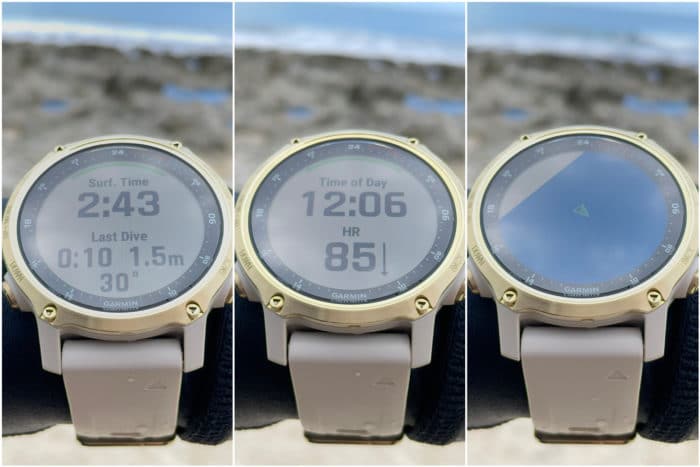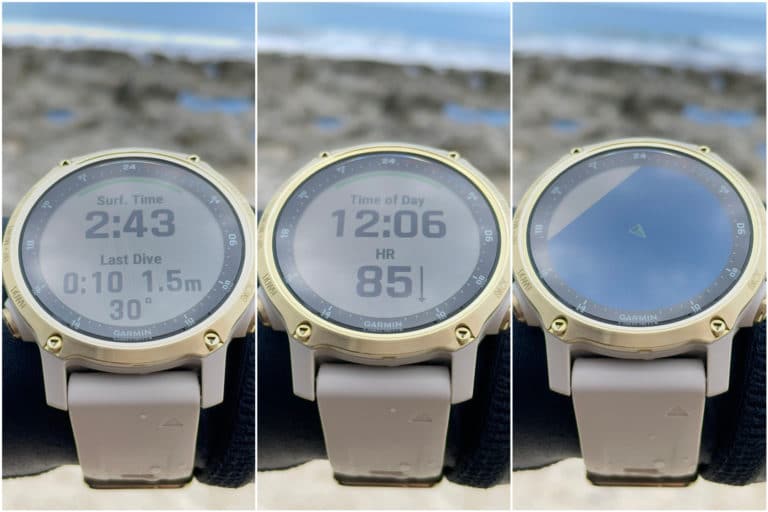 The Descent Mk2s has everything a good dive computer should have on the apnea mode data screen in a very simple and easy to read layout. The first and main screens contain the surface interval time, the dive time of the last dive, the maximum depth reached and the water temperature. The second screen shows the time of day and heart rate, while the last screen shows your point on a map. Even though the screen is smaller than the Descent Mk2, it remains highly visible underwater with a strong backlight. I can also switch between freshwater and saltwater modes, which is great because I dive both in the ocean and in a deep pool.
I now need both audible and tactile depth alerts on my dive computers, and the Descent Mk2s has the option of just one or both styles and are both loud enough with a strong enough vibration to alert me to my depth so I never miss an alarm before taking my mouth full or starting my free fall. The time notifications are also useful for stalls or for spearos that need to be notified of their bottom time. You can also set and customize a surface interval time alert, although I'd like to see one that automatically calculates my surface interval based on the depth and ascent rate from my previous dive.
You can view the detailed dive log on the Descent Mk2s itself or in the Garmin Dive™ app, which allows you to enter so much additional information about your dives, such as conditions, weight, photos, notes and dive buddies, as well as find dive sites and data other Garmin users have uploaded publicly. You can also view and superimpose timelines of your depth, heart rate, and water temperature for a more in-depth look at a dive. For freedivers who really want to record and track their dive sessions, this app is great.
GPS and compass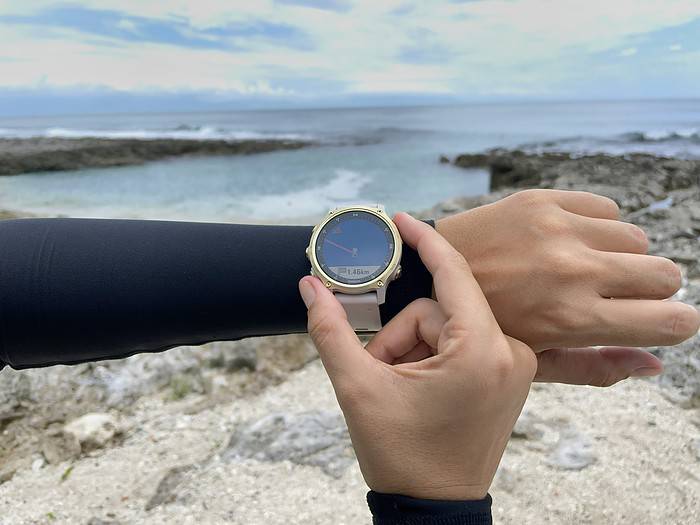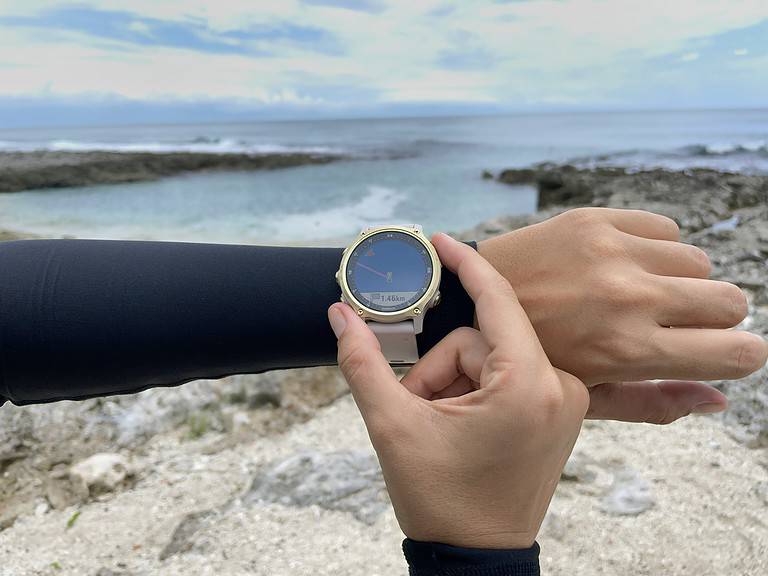 The compass is very responsive, although I don't use it for my own personal dives. My main concern in a dive computer is having a GPS as all the buoys I attach in Taiwan are underwater. Connecting to GPS is almost instantaneous and saving a new dive site is a breeze. I can even personalize the name of the place and a specific icon for it! If a friend also has a Garmin dive computer and has the coordinates of a specific spot, I can simply enter it into my Mk2s and navigate directly to the dive site and then save it to my own dive computer.
I'd add that it would be more convenient if I could save it directly to my Mk2s, so I'll be on the lookout for future Garmin updates!
Battery Life and Connectivity
The Descent Mk2s has a shorter battery life than the Mk2 due to its smaller size, but I still only need to charge it every 4-6 days depending on my activity level, which is fantastic compared to other smartwatches and fitness trackers (even those which do not serve as a dive computer)! GPS connectivity is absurdly fast and I can also connect it to my Android phone to get notifications. However, I don't feel like I need this feature so I leave it off to get more out of my battery.
Heart rate measurement
Having a heart rate measurement is useful to me for everyday life, physical activities and sometimes during my dives too! I don't rely on it for diving, but it's really cool to see my heart rate drop and stabilize as I prepare for a dive, and to watch it rise a little bit and then get stuck. Wrist-based heart rate isn't the most accurate measurement and can sometimes have a short delay, especially in the water, so if you're serious about monitoring your heart rate and want a more accurate reading, Garmin sells an HRM-Swim chest strap that can be used up to 5ATM .
Smartwatch and Fitness Tracker Features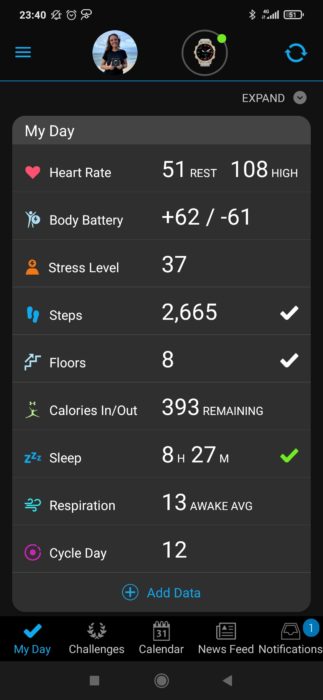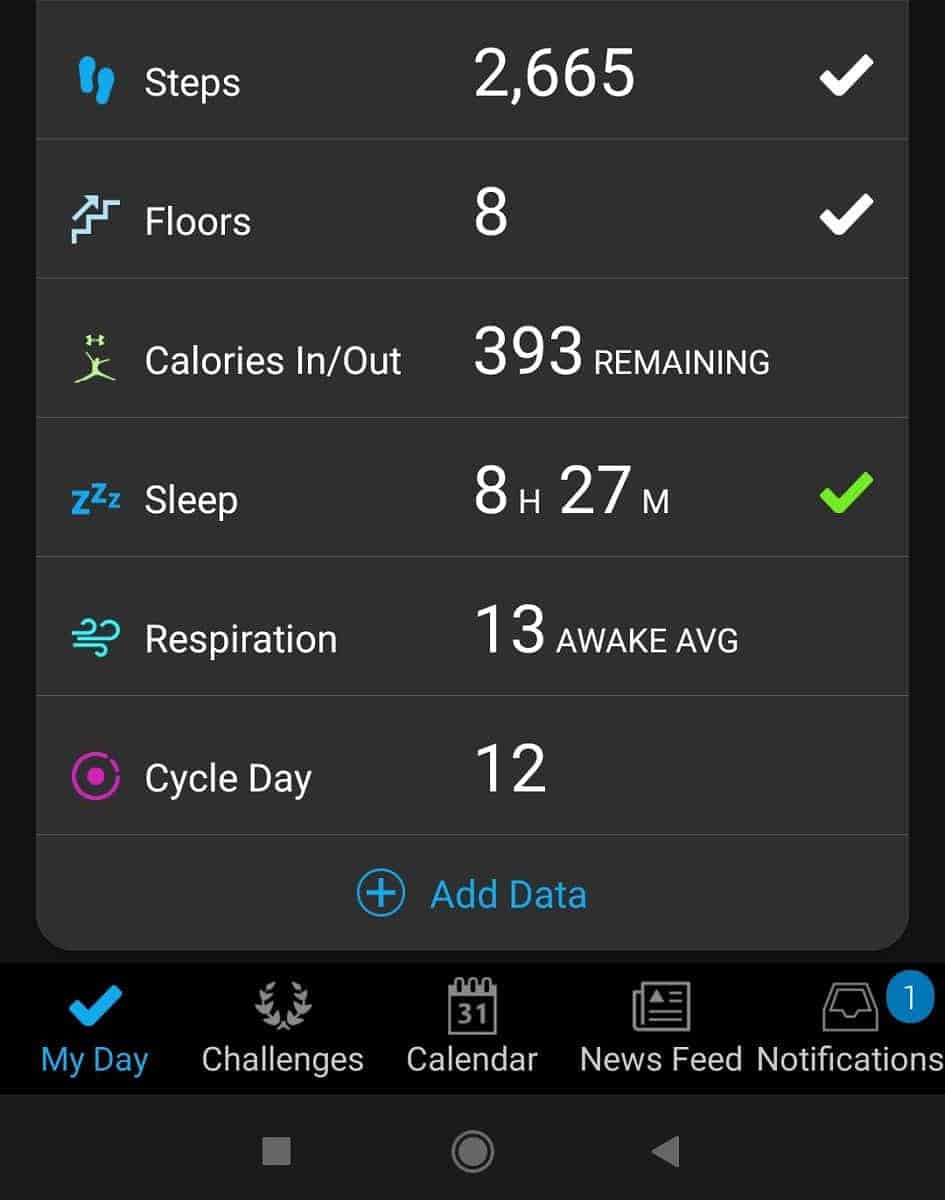 With the Garmin Connect™ app, you can view many health stats: heart rate, Body Battery™, steps, floors climbed, stress level, calories in and out (connect to MyFitnessPal to track calories), stress, respiratory rate and more. It even tracks ovulation and periods and lets you add notes! I like exercising and seeing my heart rate zones, aerobic and anaerobic benefits, load and recovery time. I can even do pre-made or personalized workouts right from the Mk2s themselves! In addition, it has training modes for a very wide range of activities, even cross-country skiing and tactical modes.
All these features and measurements inspire me to be more active and healthier, which I really appreciate about the Mk2s. The health and fitness tracking features make me want to keep the Mk2s on my wrist every day, not just when I'm diving.
Final Thoughts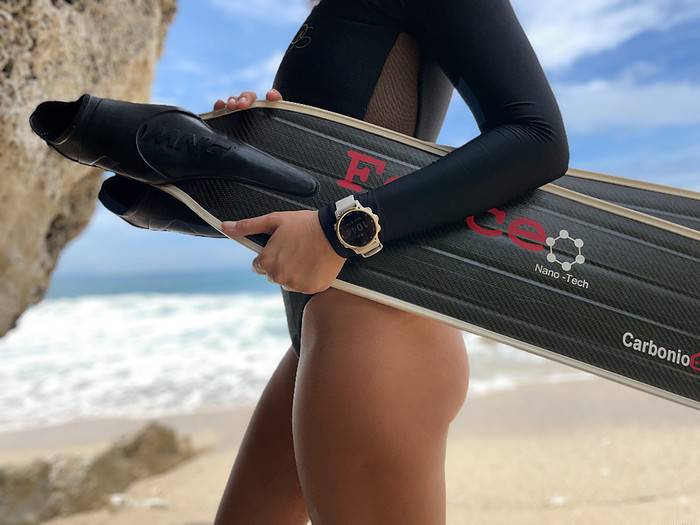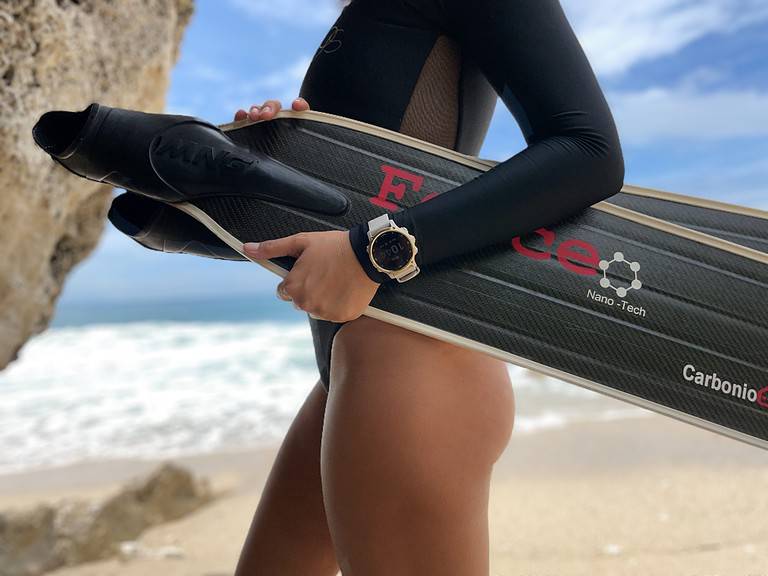 The Descent Mk2s is a spectacular dive computer and all-round fitness watch, and all of its features make the price tag worth it! My favorite parts of the dive features are the volume and vibration intensity of the dive alarm, heart rate tracking and how visible it is in direct sunlight and underwater, and I have to admit I'm embarrassingly addicted to the health and sports tracking aspects of the dive. . The small size and striking colors are perfect for everyday use, and the watch itself makes me want to live and dive better and gives me all the resources to do so.
In short, I highly recommend the Garmin Descent Mk2s for all types of divers (especially freedivers and spearos)!
Most important features:
Dive Modes: Single-Gas, Multi-Gas, CCR, Gauge, Apnea, Apnea Hunt
Apnea/Apnea Hunt Data Screen

Current surface interval time
Maximum depth
water temperature
Time of day
Heartbeat
Current location on a map

Apnea/Apnea Hunt In-Dive Screen

Past time
Current depth
Maximum depth
Heartbeat
Ascent/Descent Speed

Customizable Dive Modes
Dive Logbook
Surface Multi-GNSS
Wrist-based heart rate
Pulse Ox sensor
Smart notifications
Connect IQ™ Store
Technical specifications
sapphire crystal lens
Stainless Steel Ring
Fiber Reinforced Polymer
Compatible with QuickFit™ watch band
43 x 43 x 14.5mm (1.7 x 1.7 x 0.6in)
2″ (30.4mm) diameter
Sunlight-visible, transreflective memory-in-pixel (MIP)
240 x 240 pixels screen resolution
silicone strap
Rechargeable, built-in lithium-ion battery
battery life

Smartwatch: up to 7 days
Battery-saving watch mode: up to 21 days
Dive mode: up to 30 hours

Water Rating: Dive, 100m (328ft)
32 GB memory/history
Price
Garmin Mk2s Descent – $999 USD / €821 EUR / £705 GBP
Buy it now
Garmin Descent Mk2S Watch Style Dive Computer
Explore both worlds — underwater and above — with Descent™ Mk2S. This smaller watch-sized dive computer features multiple dive modes, such as single and multi-gas diving, depth sounder, apnea, apnea hunt, and closed-circuit rebreather. Descent Mk2S also comes with a 3-axis underwater compass with GPS capabilities on the surface to mark your start and end points.