The MLB is by far one of the highest revenue-generating leagues in America. And the athlete's earnings are proof. Derek Jeter, a New York Yankees legend, had recently come out to sell his property. A mansion in south Tampa, the property is going to give Derek Jeter a hefty payout on his palatial home.
ADVERTISEMENT
Article continues below this ad
Jeter retired as a New York Yankees legend, but has left his mark on the game even after. He is now a co-owner of the Miami Marlins and has been the CEO of the franchise since 2017. Particularly since his property has been up for sale since last year, it appears that Jeter has finally found a buyer.
ADVERTISEMENT
Article continues below this ad
The Exquisite Property of Derek Jeter
The mansion has an impressive limestone and granite structure and only gets more impressive. With 22,000 square feet of interiors and another 9,000 square feet of patios and balconies, spacious would be an unfair description.
The mansion is a palatial residence to say the least. Reputedly, with hand-polished Venetian plaster, hardwood millwork and silk curtains, the mansion is truly a home fit for those at the top of the food chain. The marble mosaic tiles and the walls of the windows overlooking the water only add to the charm of the coastal hotel.
DIVE DEEPER
The property houses huge rooms, including a two-story living room and kitchen with four sinks and four dishwashers. Big houses call for big parties and big cleanups.
The property also houses the typical amenity suite. A wine cellar, movie theater and gym are pretty standard for most athletes' residence, but Jeter takes it a step further. Featuring a custom clubhouse with a curved wet bar, billiards room, game table and direct access to the deck, the house is decked out.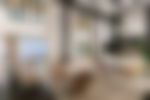 The house has 7 bedrooms and 12 bathrooms. These also include an owner's suite with a sitting area and fireplace.
To round out the property, it has bubbling fountains at the back. These lead to an 80-foot saltwater pool, spa, and boat dock with two boat lifts; For your transport by sea, of course.
Tom Brady rents Derek Jeter's house
While still working in baseball, he's made some serious waves for how he's managed to do business with some of the NFL icons; More specifically, Tom Brady.
ADVERTISEMENT
Article continues below this ad
NFL legend Tom Brady leased the property from Jeter when he agreed to a 2-year deal with the Tampa Bay Buccaneers in 2020. Reportedly, the reason Brady was interested in renting the property was because he could also live closer. to the Raymond James Stadium, which houses all of the Buccaneers' games.
Brady was reportedly very accommodating to any potential buyers when renting. This could apparently be because he plans to move anyway.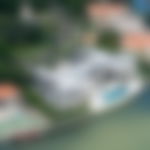 ADVERTISEMENT
Article continues below this ad
Reportedly, Brady has bought a separate plot of land that he wants to develop as his dream home. He and his wife, supermodel Gisele Bündchen, bought a spot on Indian Creek Island in Miami. The plan seems to be to demolish the existing 5,200-square-foot house and build a dream home instead.
While Brady certainly looks set to settle in Florida, Jeter will be happy with what he's made and may look to grazing again if he wants to invest.