A commonly used metaphor
If the intention is to express that any matter – within a sport for example – requires some thought, then chess is often used as a metaphor. For example, American football is often compared to chess, because the aim is to gain space with a series of rehearsed pieces.
The Klitschko brothers, both chess enthusiasts, also like to compare their boxing with chess. Targeted attacks prepare the decisive battle. "Good boxing requires thinking" was the message. Later there was even a direct connection with the royal game through chess boxing, although less thought is given in the boxing part and not at all in the chess part.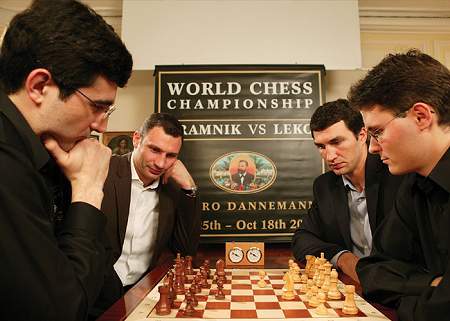 Vladimir Kramnik, Vitali Klitschko, Wladimir Klitschko and Peter Leko play a game of tandem chess in 2004
Other athletes were also attracted to chess. Tennis coach Bob Brett, who died of cancer just over a year ago at age 67, explained tennis court strategy to his protégé Boris Becker using chess strategy – he even taught Becker how to play chess and turned him into a world-class player. .
Bob Brett was serious about his interest in chess. He was a customer of ChessBase and regularly entered chess programs. Once, while caring for a protégé playing at the Rothenbaum tournament in Hamburg, he personally came to the ChessBase office for shopping.
Chess in Formula 1
There are also chess fans in the world of Formula 1. You might think that racing and chess are exactly opposites. One sport is incredibly loud with very fast movements, the other sport is very quiet and – in classical chess – contains little to no movement. But there are also similarities. Especially the strategy regarding choosing the right tires and dividing the race into optimal segments plays an important role in racing.
Perhaps that's why drivers are drawn to chess, because it provides a kind of slowdown in the midst of their hectic sport. Moreover, very few accidents happen in chess!
Multiple world champion Lewis Hamilton has often been photographed playing chess. Here, for example, he faces 2016 World Champion Nico Rosberg.
The two Scuderia Ferrari drivers, Charles Leclerc and Carlos Sainz, went a little further. In their regular video blog they had a real chess match.
Sainz, who played black, won completely because he had an extra queen and an extra rook. However, the match ended in a draw due to a stalemate. Leclerc was outplayed in the match, but he knew – unlike his teammate – that the final score was equal.
Left