By: Madyson Kosar
On September 1, 2021, Emily Hosler was named the first Acrobatics and Tumbling head coach in Stevenson history. Hosler's arrival at Stevenson comes after two seasons as head coach at Alderson Broaddus College in Philippi, West Virginia, where she was an athlete on their
the inaugural team during the 2012-2013 season.
Acrobatics and Tumbling is Stevenson's newest sport and the 28e varsity sports at university. The team is one of six Division III programs in the nation and the 39the member of the National Collegiate Acrobatics and Tumbling Association.
Hosler has also served as a graduate assistant coach at West Liberty University, a prominent Division II program in West Virginia.
In addition to Hosler, the Mustangs announced the addition of Assistant Coach, Danielle Samuel. Samuel is from Randallstown Maryland and will graduate from Gannon University in 2021. Samuel was a four-year member of Gannon University's acrobatics and tumbling team, where she became a national champion in the inversion pyramid event in 2018. was at Gannon University.
Assistant coach Daniel Samuel participates in a floor event at Gannon University 2021
Acrobatics and Tumbling combines elements of gymnastics, cheerleading, acrobatics and power tumbling, and each encounter consists of six events: Mandatory, Acro, Pyramid, Toss, Tumbling and Team. Athletes perform individual tumbling passes, as well as small group stunts, and compete for the highest total score of 300 points.
Acrobatics and Tumbling have been adopted by the NCAA as an emerging sport for women in all three divisions for the 2020-2021 academic year. It will not reach championship status until it reaches at least 40 varsity programs; 37 of the 39 members of the NCATA (National Collegiate Acrobatics and Tumbling) are currently recognized as NCAA (National Collegiate Athletic Association) varsity sports.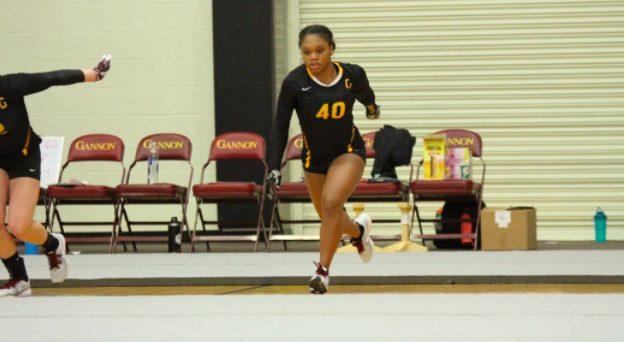 The Mustangs begin competition on February 19, 2022, when they meet Frostburg State University at home. Fans can follow the latest Mustang team by following them on Instagram, @stevensonacrotumbling and Twitter, @SU_AcroTumbling.