Why will it be different this season?
That is the question for Munster winger Andrew Conway.
This week, former Munster and Ireland captain Donal Lenihan spoke passionately about the pain in the province over how things are developing as the team enters a second decade without any silverware.
The two-time European champions are plodding along, many fans think, and the fear among supporters is that when it comes to the business end of the season, they will fall short again.
Conway, who has been with the club for nine years, says he knows there is still room for improvement and cites the influence of Caroline Currid, who entered the backroom at the start of the season, as the reason why the fans are keeping the faith .
The Sligo woman is a sports psychologist who has recently worked with the Limerick hurlers, winners of three of the last four All-Ireland titles, and helped Dublin end their Sam Maguire famine in 2011.
"Caroline has brought in a real winning mentality and winning experience," Conway, who will play for Munster against Wasps in the Heineken Champions Cup on Sunday, told RTÉ Sport.
"We've had some really interesting encounters with her, the playgroup and the coaches.
"We're talking about things we've never done before, including our mental preparation. It's in our weekly schedule.
"It used to be seen as secondary in teams I was involved in.
"You do all the physical preparations, train two or three times a day, four or five times a week and the competition and the physical recovery.
"You're kind of left to your own devices in how you recover mentally from playing a bad game, but also in a game you played well.
"You often see it after a team has played some of their best rugby, the next week they play really bad.
"We need to learn why that is. We need someone who has been there and done that with different teams.
"It's not something specific to rugby, it's sport.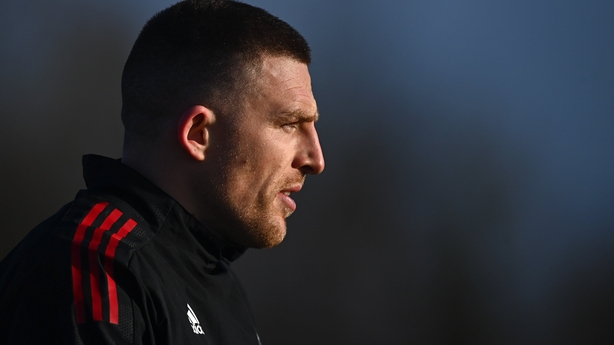 "It's something we're working on really hard behind the scenes and there's a huge buy-in from the players and coaches. We're having several conversations.
"Obviously our game needs to grow because we got into a couple of semi-finals and a final and didn't win.
"But we're working behind the scenes with Caroline, who opens us up to different ways of thinking, to challenge us in ways we've never been challenged before.
"It's still early, we've been working together for about six months, but you can feel the differences between different parts of the squad, from guys who are frustrated that they don't get games to guys who are at the end of their careers.
"She works with all those guys, including me, and then it goes back to the business end of the season, the semi-finals against the big European teams, against Leinster, that we're ready to go and mentally prepared to mix our game and have that freedom and detachment to go out and play rugby and then you have a chance."
We need your permission to load this comcast player contentWe use comcast player to manage additional content that may place cookies on your device and collect data about your activity. Check their details and accept them to load the content.Manage preferences
Munster has already qualified for the knockout stage, but are looking to improve their placing in hopes of a safer passage as they work their way out of a two-legged round of 16.
A number of former players and pundits have criticized the team's rugby type, but the Ireland international, who has scored 13 tries in 27 Irish caps, insists proving the critics wrong is no source of motivation for the team .
"With all due respect, we understand 100% why there is criticism. Don't get me wrong, we haven't played to our potential in some games, but I honestly believe a lot of the criticism is overblown." said the 30-year-old, speaking as the tournament marks the 27th consecutive season of Heineken's partnership with European rugby, and the fifth season of the Heineken and Rugby Players Ireland partnership.
"There are times when we need to be better and much more diverse.
"Sometimes it's just wrong.
"I don't expect journalists to understand the game in the same way we do, because I go to meetings three or four times a day to watch rugby. My job is to understand rugby in its most detailed form.
"The guys who write about us, it's not. It's to write newspaper articles, it's to cover the game, to give fans a snapshot of what they've seen.
"If we take what people say in the story and take it to heart and use the opinions of others to set our own agenda, we're in big trouble."