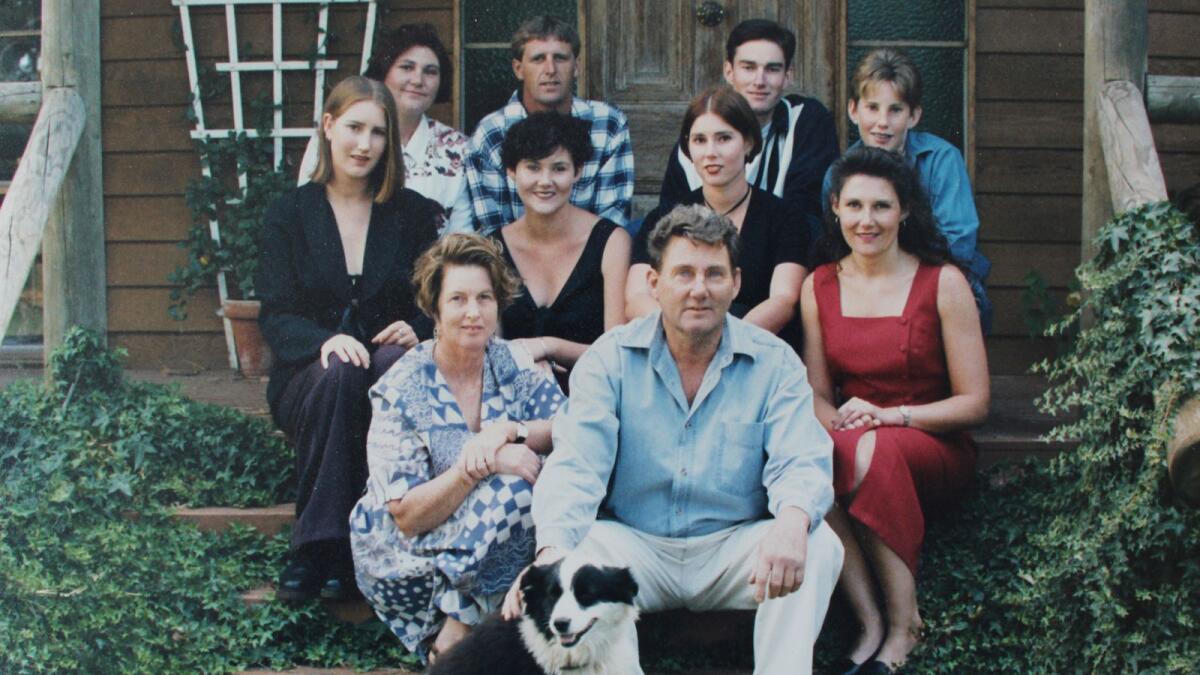 Two of Dick Minchin's seven children, Sally and James, and Leo Welch, one of his closest ski racing colleagues, told the story of his life together: one of fast cars, fast boats, a long history in small businesses. and a passion for photography, after his recent death.
He was known and respected by so many people in the Echuca Moama community. tToday's greeting to Richard is a combination of the three eulogies read at his funeral.
Richard Clive Minchin was born on October 4, 1944 as the second child of Roma and Philip Minchin.
He was better known as Dick, and spent the age of 10 in the region at age 77.
Dick's youngest child James recalled asking his father why he and Dawn, with six children, aged about seven to 12, thought it a smart idea to have another one.
He burst into a cheeky grin and said, "It wasn't my idea, it was your mom's — she said we needed another one to bring the family together."
James told the council at one point that they had a child in every year of high school, and I was just starting elementary school. "How the hell they've raised us all and been able to work their respective jobs, and find time to do something else is completely beyond me."
He described his father as a man of intense and focused passions, and when he became engrossed in something—cars, radios, tractors, boats, cameras, printers, drones, and dune buggies—he went all out.
He also spoke of him as a shrewd businessman, citing Riverina Belting, a conveyor belt repair and replacement company.
It was initially distributed by regular Gambler team member Dan McMahon and has been managed by Dick's son-in-law Simon for the past 20 years.
When Dick was about 10, Roma moved the family to Moama to a beautiful house called Rathillet. Dick went to school in Moama and then went to technical school, but school wasn't for him.
Dick had a passion for everything that was fast, cars, boats, everything that really moved.
Dick, Don Treacy and Noel Milgate, to name a few, began preparations for the Rich River speedway, which was unveiled in the Rivi on August 30, 1971. The speedway was to be built at the bottom of a giant sandbox on the Milgate property known as Milgate's Pit.
It was a community project to get the speedway up and running and eventually the first of many races was held at the speedway on 29th October 1972 with drivers from Melbourne and regional Victoria. Dick and his first wife Rosita raced their cars at these events.
A few years after the death of his first wife, Rosita, he decided to give up motor racing.
He opened a fuel depot with Bob Sage, where the new police station in Echuca is.
In 1977 Dick met Dawn and they married in August 1978, creating their own version of the Brady group consisting of six children, which expanded to seven in 1980 with the arrival of James.
Echuca Bearings began operations in 1979 at 127 Pakenham St in Echuca, but soon outgrew the location and moved to Heygarth St. It eventually settled on Murray Valley Hwy and is now owned by Christine and Simon Norris.
Dick bought the family's first ski boat in the late 1980s and soon after became heavily involved in ski racing.
Dick started ski racing from his new neighbor when the family moved from Rochester to Latham Rd in Echuca, Bruce Cox.
Their first memories of Dick and ski racing were when he and daughter Christine towed Lester Freemantle's boat moonshot to the world titles in Darwin around 1991. Not long after, he owned a 17-foot Lab with a Yamaha engine on it.
Members of the founding team included his daughter Christine and Nicole Mitchell, as well as the entire Welch family – Leo, Jackie, Jai, Ben and Zac, and Dick's close friend Dennis Rowbottom.
Other regulars included Rochester's Justin Gray and Dan McMahon, the Hamilton sisters Karen and Jo, as well as the likes of Bryson Lloyd, Christian Apps, Brett Williamson, and Justin Cadden.
Dick's favorite skier remained the late, and great, Ian Baker.
Anyone who knew Dick would know that he never did things half way. He was a competitive beast and always eager to improve, leaving no stone unturned.
As the crew improved, so did the equipment. Dick traded the Lab for a Bullet and named it the gambler. Over the course of his career, he then had a draft and his time ended in another lightweight 18-foot Bullet.
All of Dick's boats were named the gambler, this name was well respected in the ski racing fraternity and you always knew you had to be sharp to beat this crew.
Dick would never say no to dragging a kid and gave many skiers – boys and girls – their introduction to the sport.
Dick had a real soft spot for the social female class, especially in the rivers where he could drag the girls in the morning, then Jock and whoever accompanied him in the afternoon.
Leo said Dick clearly had a good relationship with his GP. In this era, you needed a medical license to get a license, one of the criteria of the medical staff that required you to take a color blindness test.
Son Leo said he wasn't sure how Dick passed the test because he was color blind.
He told those at the funeral he wasn't sure if he was completely color blind, but certainly in the case of canal markings in Sydney and Grafton he couldn't tell the difference between green, red or yellow.
Finally he stopped racing and found the camera.
Photography had been Dick's passion for over 20 years.
Whether he was hunting for gold somewhere in the Simpson Desert, or photographing old pubs in Innaminka, Dick didn't care – as long as he was deep in the dry, barren heart of the country, he was happy.
Dick loved his tractors and stationary engines.
He had his eye on this vintage tractor that Joe Altera had on his scrap yard but would never sell. Joe passed away and in the end Dick was able to buy this tractor from Joe's estate.
His passion for travel kept him and Dawn out and about on a regular basis. Even in the hospital, he planned his next trip in 2022, including the Finke Rally, as well as a trip to the beaches along the Great Ocean Road with his grandson Josh.
His greatest love was his family.
Dick did everything for his family, his children and grandchildren.
He was so excited to meet his youngest granddaughter, Genevieve, before going to the hospital.
He leaves behind his wife Dawn, his seven children – Sally, Amy, Fiona, Antony, Christine, Michelle and James – plus 10 grandchildren ranging from 33 years to eight weeks and six great-grandchildren.