Two men with Southern roots, one a longtime Hyde Parker, have opened Roux, a Southern cuisine restaurant on 55th Street, and Seven Ten Social, the mid-South Side's only bowling alley, has gotten a face lift.
Restorer Steve Soble moved to Hyde Park in 1997, at which point his portfolio included the Lucky Strike bowling alley in Wrigleyville, 1027 W. Addison St. He had the idea to open a bowling alley down here and pitched it to the University of Chicago, which retrofitted its under-construction North Campus parking garage to accommodate the business. Seven Ten Social, initially named Lucky Strike Hyde Park, opened in 2001.
Years on, as 53rd Street really started to boom, Soble figured it was time to reconceptualize the property, 1055 E. 55th St. Seven Ten Social's pool tables were not so busy anymore, and the antiquated pin-setting machine, which was designed to look retro, was outdated, as were the pen-and-paper scoring system. ("More and more people didn't know how to keep score; even in the University of Chicago area, you would think people would know math." he said)
"I went back to the university right before the pandemic and said 'Here's what I want to do,'" he said.
At the time, Soble was trying to partner with another restaurant company on an all-day southern breakfast idea. While they were negotiating, COVID-19 arrived in Chicago. As they put that idea on hold, Soble started working with chef Charlie McKenna at his West Loop venue District Brew Yards, 417 N. Ashland Ave., inside which McKenna owned the barbecue restaurant Lillie's Q.
McKenna liked the breakfast concept and ended up designing Roux' menu, and the two are responsible for the two restaurants' design.
"We wanted to make it a brand new place, Seven Ten Social breaking free from everything we were before and Roux," Soble said. "It's two concepts in one basic space."
One kitchen with two different lines serves both restaurants. Roux's menu is streamlined, and Seven Ten Social's is compact.
"Back in the day when we started, the idea of ​​a full-service restaurant with all of these items that you could do well was good. Now you have to really focus on 'this is what I do' and do it incredibly well, " Soble said. "That's where Charlie came in. We knew we wanted to minimize the number of offerings and keep it simple."
McKenna has been in Chicago for 20 years but was raised in Greenville, South Carolina. "I'd say one thing we're trying to do with the food down here is not necessarily fancy Southern food — just very quality, very well-executed, very well-plated," he said.
"We're really going for the all-day diner effect. Obviously, we really want the community to really embrace hanging out in this location. They can come here and do their work. Students can come hang out with their computers and have coffee during the day. Maybe they can get a pastry or a light breakfast here, and then obviously we have the all-day part where eventually we'll extend our hours into dinner, where people can come and eat."
The $5 heirloom grits on the menu — with cheese ($2), bacon ($3), sausage gravy ($3), an any-style egg ($2), mushrooms ($3) or caramelized onions ($2) — are from a farm he knows in the Palmetto State. South Carolina's famous Duke's Mayonnaise is an ingredient in the $10 sausage biscuit that comes with a scrambled egg and American cheese. McKenna said he styled Roux after an all-day waffle diner: here, the waffle comes with hot chicken, whipped butter and syrup for $17.
New Orleans fritters are on the menu with the requisite powdered sugar ($5) as are the requisite saltine crackers and pimento cheese ($6, very spicy). The country ham, served with grits, red-eye gravy and sunny-side-up eggs for $13, comes from Virginia; Soble originally comes from Richmond.
"I think Southern food crosses all lines," he said. "I grew up loving things like grits; these are the best grits I've ever had. I don't know what the people were making grits with at the restaurants when I grew up, but they weren't this. For me, this is home."
McKenna said the same: "I grew up eating all this food. For me, it's just creating food that I've known my whole life. And how I do that is just doing it to the best of my ability, and hopefully all people enjoy it."
Seven Ten Social, for its part, has cheeseburgers made with Wagyu beef ($9.55), chicken wings (10 for $14.55) and chicken tenders (3 for $13.55), and shakes (vanilla, chocolate, strawberry and, soon, New Orleans-style coffee, $5.55). Burgers and wings made up 80% of sales before the renovation, so they kept what works with McKenna's spin on them.
"We wanted to be a place that was reasonably priced so people would want to come here reasonably often with the quality of food that we're going to have," he said. "If (costs) get high, I think Steve and I have decided we're going to eat a little bit of our margin, because we don't want to push people away because of food pricing."
Staff shortages, pandemic affect operations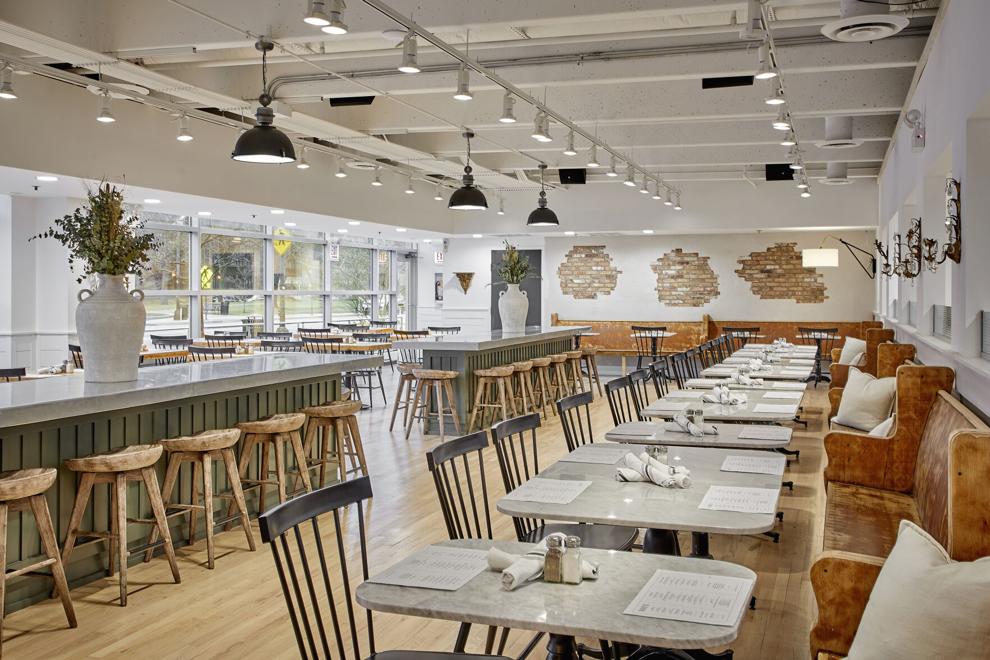 Soble said that the continuing pandemic — he and McKenna spoke earlier in January, shortly after the peak of the omicron wave — and staffing shortages have affected the restaurants' rollout.
"You can't even get a full menu. You don't have the ability to do everything," he said. "So this is a very tight, concise menu."
Times have changed in the bowling industry, too — simply put, people don't bowl like they used to, though it's still a cold-weather hobby. Soble said bowling leagues are beginning to make a bit of a comeback and that the sport is a spectacular party event: "It's a great icebreaker: everybody looks silly when they're bowling, and everyone can do it, even if not well."
The old Seven Ten Social was going for a retro ambiance, but Soble is happy to adapt the business to changing tastes: "It's a lot of fun to bowl and have a drink. It's still a lot of fun, I think people are going to really enjoy what we've done."
"The pandemic has forced a lot of people to pivot," he said. Roux was originally going to be a full-service restaurant, with a wait staff taking orders at tables. But because of the staffing shortage, customers order at a kiosk by the entrance and take a number to a table, where their meals are brought to them.
He is paying his front-of-staff workers more than he would servers and said tipping is not necessary because their wages are $18 to $20 an hour. (Payroll is not lower because of the change, even though he is paying fewer front-of-house workers, because he is paying them more.)
Soble doesn't think customers have any problem with the system. He doesn't foresee any changes with the staffing shortage any time soon, so he's embracing the change long-term. But getting customers in the doors of the restaurant itself has been difficult, he said, because of Chicago's proof-of-vaccination mandate put into effect to combat the surge of the omicron variant.
"We have to turn people away because not everyone has their vax," he said. "There's several factors going on, including the cold and omicron going crazy, but I think here, especially on the Seven Ten Social side, because not everyone has their vax card, they're not matching it up with their ID, and people are very upset with us. And we're just trying to enforce this city rule."
Since its start, the pandemic has been an unparalleled disaster for the hospitality industry. Soble has received a disaster loan from the federal government, and Seven Ten Social got a Back to Business grant from the state. The U. of C. renegotiated his lease, and he got a tenant improvement allowance.
"So far so good. The last couple weeks we were doing really well until omicron and the new vaccine requirements, but we think it will come around really quickly," he said.
.