Ferrari is an Italian sports car company and Formula One racing team. The two sides of the business are linked, you cannot have one without the other, because founder Enzo Ferrari started building road cars as a means to fund his racing team.
Scuderia Ferrari (the racing team) began running Alfa Romeo's motorsport program in 1929, but by 1947 the first road-going Ferrari model – the 125 S – had hit the streets. Since then Ferrari has become a powerhouse on the road and racetrack.
It has won 16 F1 Constructors' championships, 15 Driver's titles and 237 grand prix, but running hand-in-hand with that racing success has been the growth of the road car operations.
Read more about the Ferrari
While Enzo may have been focused on racing, since his death in 1988 Ferrari has become a world renowned luxury brand, producing arguably the world's best looking and most desirable range of supercars.
The current line-up includes the 296 GTB, Roma, Portofino M, F8 Tributo, 812 Superfast and 812 Competizione as well as the SF90 Stradale and Spider hybrid.
What is the average price of a Ferrari? What is considered expensive? How much does a Ferrari cost in Australia?
The Portofino is currently the cheapest car in Ferrari's lineup.
Building road cars may have started as a side hustle for Enzo Ferrari, but over the past 75 years the company has produced hundreds of models and some have become the most desirable cars in the world.
In fact, the most expensive Ferrari sold – according to public knowledge – is also the most expensive car in the world; a 1963 Ferrari 250 GTO that sold for a reported US$70 million ($98m).
So, by comparison, a brand new Portofino at $400K seems like a relative bargain, even if it's clearly a very expensive new car.
Looking at the current range, the Portofino and Roma are the most affordable at $398,888 and $409,888, respectively, and the most expensive Ferraris currently available are the 812 GTS Convertible at $675,888 and the SF90 Stradale which starts at an eye-watering $846,888.
The average price of the current range works out to approximately $560,000.
Why are Ferraris so expensive? Why are they so popular?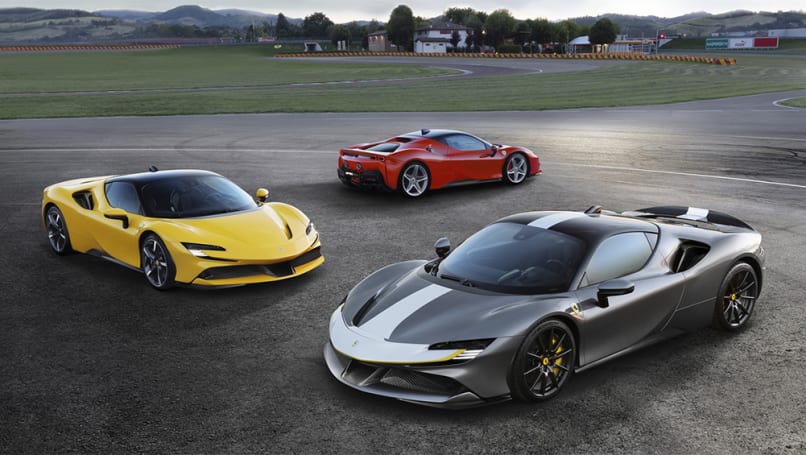 Ferrari makes beautiful cars, but the SF90 is something else.
The simple reason Ferraris are so expensive and popular is the exclusivity. The company's goal has typically been to sell less cars than there is demand for, even as sales have grown over the years.
The historical success of the brand's vintage sports cars as investments also helps, with Ferrari models dominating the lists of the world's most expensive cars.
But the mystic of the brand also helps. It's synonymous with success, speed and celebrities. On the racetrack the Ferrari has been associated with some of the greatest names in F1 history, including Juan Manuel Fangio, Niki Lauda, ​​Michael Schumacher and Sebastian Vettel.
Away from the track famous Ferrari owners include Elvis Presley, John Lennon, LeBron James, Shane Warne and even Kim Kardashian.
This combination of desirability and limited supply has allowed Ferrari to become one of the world's most exclusive brands and adjust its prices accordingly.
When the company builds special edition models it can set the price at whatever level it chooses and have confidence it will be a sell-out – which is not something all sports car brands can claim, just ask McLaren.
In fact, Ferrari is so popular it actually invites customers to spend millions on a new special edition. And to get on that invite list you must be a regular customer, and that means buying multiple new models over a long period.
Top six most expensive Ferrari models
1. 1963 Ferrari 250 GTO – US$70m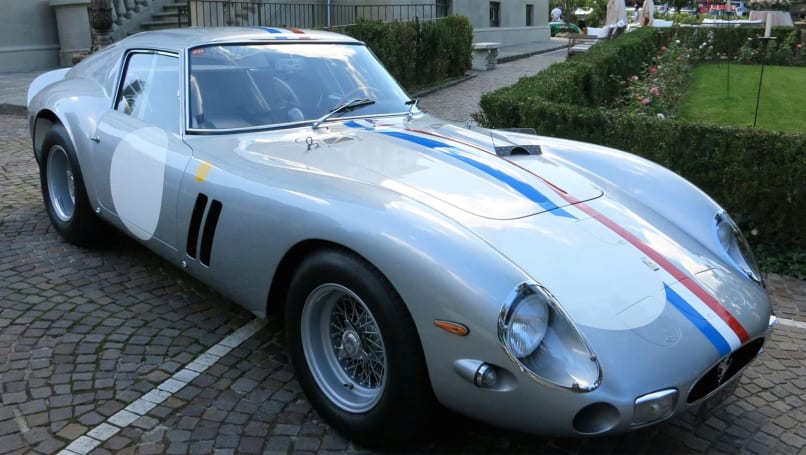 This 1963 250 GTO is the most expensive car in history. (Image credit: Marcel Massini)
As mentioned earlier, the most expensive Ferrari in the world is also believed to be the most expensive car ever sold. You'll notice a trend at the top of this list, the 250 GTO.
This was the Italian brand's entry for the Group 3 GT racing category between 1962 and '64, designed to beat the likes of the Shelby Cobra and Jaguar E-Type.
It was powered by a 3.0-litre V12 engine that was taken from the Le Mans-winning 250 Testa Rossa, making 221kW of power and 294Nm of torque, which was impressive performance for the time.
While it enjoyed a successful racing career, it's hardly the most dominant or noteworthy racing car Ferrari ever built. However, it is one of the prettiest, perfectly capturing the style of the 1960s front-engine GT cars and, most importantly, only 39 were built.
This rarity makes them an in-demand model for car collectors, which is why billionaire businessman David MacNeil reportedly paid US$70m for his '63 model in a 2018 private sale.
His particular example – chassis number 4153GT – won the 1964 Tour de France (the car version, not the one for bicycles), driven by Italian ace Lucien Bianchi and Georges Berger; it was its only major victory. It's other notable result was fourth in the 1963 Le Mans.
While Ferrari is famous for its red cars, this particular example is finished in silver with French tricolor racing stripes running down its length.
MacNeil, the founder of WeatherTech, a heavy-duty floor mat company that sponsors the US-based IMSA sports car racing series, is no stranger to fast cars.
It's where he and his son Cooper have raced in the past. Cooper actually raced a Porsche 911 GT3-R in 2021 alongside Australia's Matt Campbell.
He's also assembled an enable collection that reportedly includes a 250 GT Berlinetta SWB, 250 GTO Lusso, F40, F50 and Enzo – amongst many others.
2. 1962 Ferrari 250 GTO – US$48.4m
Only 36 Ferrari 250 GTOs were built. (image credit: RM Sotheby's)
Racing success doesn't necessarily translate to extra value, because this 250 GTO, chassis number 3413GT, was a winner during its original life – but only in Italian hill climb events.
It was campaigned in the 1962 Italian GT championship by Edoardo Lualdi-Gabari, a driver without the profile or winning resume of Stirling Moss or Lorenzo Bandini.
And yet despite no famous racing victories or big name driver connection, this Ferrari sold at a 2018 Sotheby's auction for a staggering US$48.4m.
What made it so valuable is that it's one of only four with the updated 1964 bodywork from Italian coachbuilding company Carrozzeria Scaglietti.
It's also reportedly one of the best examples of a 250 GTO in near-original condition.
3. 1962 Ferrari 250 GTO – US$38.1m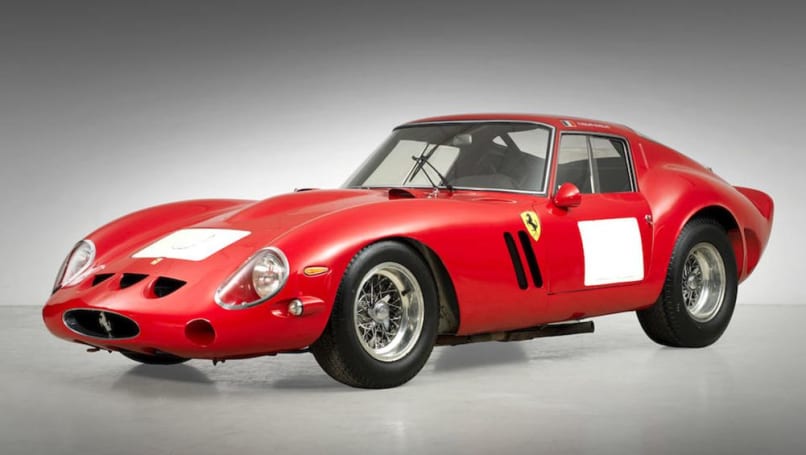 250 GTO prices started to spike back in 2014. (image credit: Bonhams' Quail Lodge)
The 250 GTO originally cost US$18,000 when new, so why has it become the most expensive Ferrari in the world?
It's hard to explain completely, because as we've already mentioned it was not the famous company's most famous or successful racing car.
But prices began to spike with the sale of this particular car at the 2014 Bonhams' Quail Lodge auction. With someone willing to pay US$38.1m it became the most expensive car in the world at the time and the two cars ahead of it on this list can thank it for making these cars such great automotive investments.
4. 1957 Ferrari 335 S Scaglietti Spider – US$35.7m
Only four 335 S Scaglietti Spiders were made.
This striking race car was driven by some of the sport's most famous names, including Stirling Moss, Mike Hawthorn and Peter Collins. And now it's owned by an equally famous athlete – football superstar, Lionel Messi.
He spent US$35.7m at a 2016 Artcurial Motorcars auction in Paris, but he can afford to because the Argentine's career earnings are reportedly more than $1.2 billion.
He's got good taste too, because the 335 S is considered by some to be one of the most beautiful Ferraris ever made. The second part of the car's name and all of its good looks comes from its designer.
Italian coachbuilding company Carrozzeria Scaglietti, led by its namesake founder Sergio Scaglietti, became Ferrari's go-to designer in the 1950s and produced some memorable cars that combined form and function.
The goal of the 335 S was to beat the Maserati 450S for the 1957 racing season, as the two Italian brands duked it out in F1 and sports car racing. It was powered by a 4.1-litre V12 that made 290kW and gave it a top speed of 300km/h.
The reason Messi had to pay so much is because on top of all its heritage it's also rare. Only four 335 S Scaglietti Spiders were made, and one was destroyed in a fatal accident during the '57 Mille Miglia – the famous 1000-mile road race around Italy that was ultimately canceled in the aftermath of the crash.
5. 1956 Ferrari 290MM – US$28.05m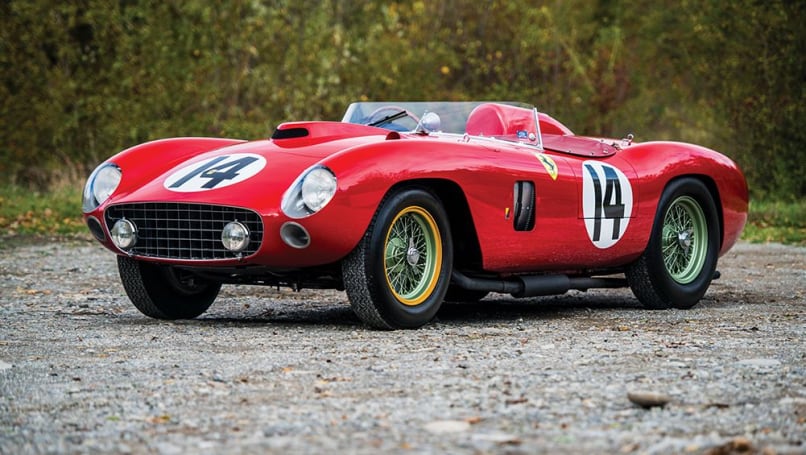 The 290 MM was sold for US$28,050,000 at the 2015 Sotheby's auction. (image credit: Top Gear)
Speaking of the Mille Miglia, our next entry on the list was built primarily with this road race in mind – hence the 'MM' in the name.
Once again Ferrari produced very few examples, just four, and this particular one is the car driven by the great Argentinean, Juan Manuel Fangio in the 1956 Mille Miglia.
The five-time F1 champion finished fourth in the race, while teammate Eugenio Castellotti won in his 290 MM.
This car was sold at 2015 Sotheby's auction for US$28,050,000, which may not be 250 GTO money but it's still a healthy amount for what was a 59-year-old car at the time.
5. 1967 Ferrari 275 GTB/4 NART Spider – US$27.5m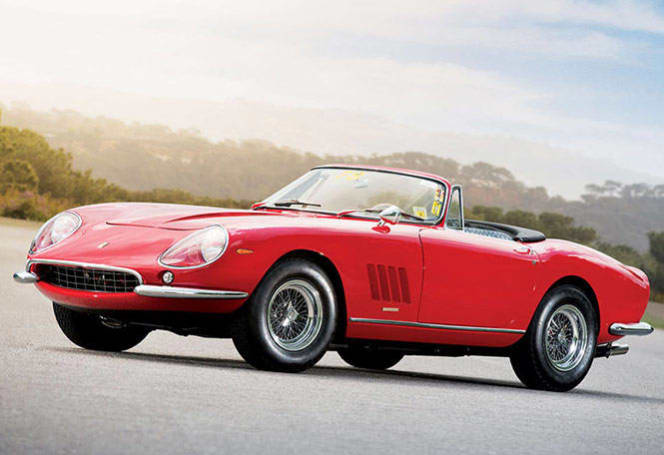 One or only 10.
The 275 GTB was the replacement for the 250 GTO, with production running between 1964 and '68 there were several variants built for road and track use. But it's the very limited edition US-only convertible that has become a true collectible.
This car was one of only 10 built specifically for the US market thanks to the efforts of Luigi Chinetti. You can't really tell the story of Ferrari without telling the story of Chinetti.
He was a former Italian racing driver who emigrated to the USA during World War II and helped Enzo Ferrari establish his lucrative US business, tapping into the unique tastes of the American audience and turning it into one of the brand's biggest markets.
Chinetti started his own motorsport outfit, the North American Racing Team or NART for short, and began racing Ferraris, too.
In 1967 Chinetti was able to convince Enzo Ferrari and Sergio Scaglietti to build a special model for him, a convertible version of the 275 GTB/4.
It was powered by the same 3.3-litre V12 making 223kW as the rest of the 275 GTB range and the car was lauded by the press when it arrived stateside.
Despite this it didn't actually sell well at the time. Chinetti originally believed he could sell 25 but only managed 10.
It was good news for at least one of those 10, because when this model on our list sold for US$27.5m in 2013 it was still in the hands of the same family of the original owner.
Given it retailed for US$14,400 in '67 the 275 GTB/4 NART Spider proved a savvy investment.
And the buyer wasn't exactly short of money, Canadian billionaire, Lawrence Stroll. A famous Ferrari collector who now has a controlling stake in Aston Martin and its F1 team.