Athletics at Calvert Hall College High School were in a much different place when Lou Eckerl arrived at the Towson school in 1982.
Forty years ago, the Cardinals had 21 teams participating in 10 sports, many competing on a hodge-podge of fields that barely had any grass, with temporary fencing. Today, thanks to Eckerl's guidance, the Cardinals have 40 teams participating in 17 sports with several competing in a stadium that is the envy of many a college program and on a baseball diamond that has won national acclaim.
As athletic director and baseball coach, Eckerl has been at the forefront as the Cardinals have piled up victories and titles from water polo and volleyball to soccer and lacrosse.
Through it all, Eckerl has balanced his devotion to producing well-rounded students and keeping the events and games running smoothly. Eckerl has done it all, from tasks as mundane as lining fields and scheduling officials to filling out a starting lineup and making sure each team is equipped properly.
Eckerl, who turns 70 in April, is retiring at the end of the 2021-22 academic year after 40 years at Calvert Hall (22 of them as head baseball coach) and a seven-year stint at the former Cardinal Gibbons School.
He's ready to spend more time with his wife of nearly 45 years, Carol.
"It's bittersweet because I absolutely love what I do, but it's time to move on," said Eckerl, who also plans to spend more time with his two adult children and four grandchildren. "When I think about retiring, I'm a little misty-eyed, but the most important thing is to spend time with my wife who has allowed me to do something I've loved doing all these years."
The job has kept Eckerl on his toes, juggling administrative duties and coaching. He said it's been a rewarding career, fulfilling the mission of educating young men and shaping their athletic careers.
"The major part I'm going to miss is the kids and the relationships I've built," he said while pausing to accept a delivery of uniforms.
Eckerl said more than 700 of the 1,200 students at Calvert Hall participate in a sport.
"We've always had the philosophy that education is the most important aspect," Eckerl said. "But everyone here understands that athletics can play an important part of that education. I think our accomplishments here with facilities and championships is a tribute to the dedication of the players, coaches, administrators and teachers. When you have that combination, everything falls into place."
Eckerl said things wouldn't fall into place every spring when he turns part of his focus to the baseball diamond if it weren't for the dedication of his assistant of the past 25 years, Cindy Patchak, and his team of assistant coaches.
Matt Bosse, a 2011 graduate who played on the Cardinals' 2009 championship baseball team, said Calvert Hall is going to have a tough time replacing Eckerl.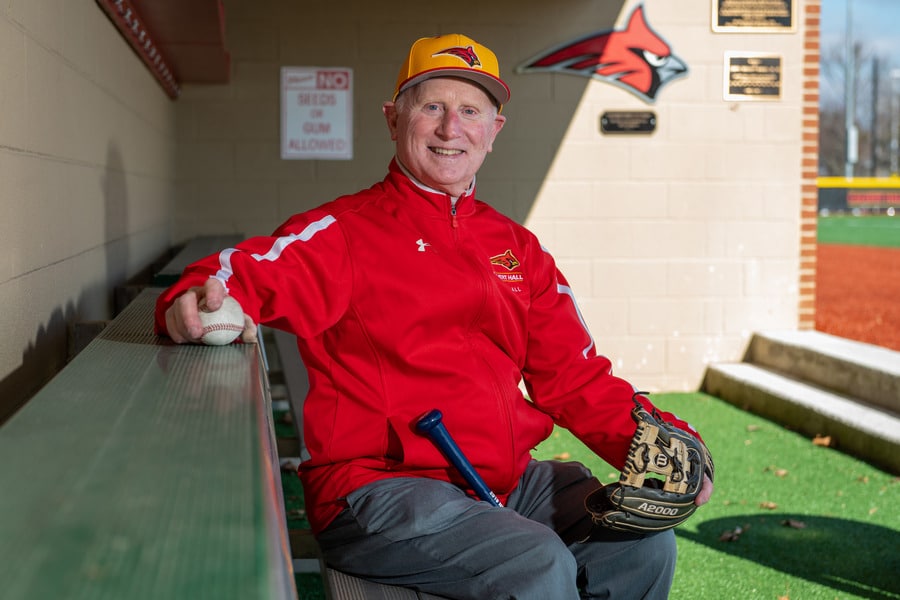 "It's going to take two to three people to replace him," said Bosse, who also played basketball and volleyball at Calvert Hall and went on to play baseball at the University of Maryland and University of South Carolina Aiken. "He did so much for us at school. He was always there whether it was at a basketball game, opening the gym for a summer workout or organizing an awards banquet."
Bosse, whose brothers Adam ('09) and Nathan ('15) were also multisport athletes at Calvert Hall, said he carries philosophies learned from Eckerl with him in his career as a financial management analyst for the Social Security Administration.
"He was always a stickler for the little details and a great communicator," said Bosse, who holds the state's single-season high school home run record (16). "Those are things I take to heart every day. He's so beloved. I'm really thankful for what he did for me and my brothers."
Eckerl's attention to detail isn't lost on the Calvert Hall administration either.
"You can certainly point to the wins and championships Calvert Hall has won during Lou's time," said Christian Brother John Kane, Calvert Hall's president. "However, the greater and more important barometer is the care he has had for his players and all our student-athletes during his tenure. The mark of a Lasallian educator is touching the hearts of your students. Throughout his entire career, Lou put our students first. We are indebted to him and will miss his presence greatly."
During his tenure as Calvert Hall's baseball coach, Eckerl has guided the team to eight Maryland Interscholastic Athletic Association titles. He was named Coach of the Year by The Baltimore Sun (2005, 2007, 2019), the Maryland State Association of Baseball Coaches Private School (2005, 2007, 2019), the Old Timers Baseball Association of Maryland (2006, 2008), American Baseball Coaches Association Region 2 (2008), and National High School Baseball Coaches Association Region 2 (2005).
He enters his 23rd season this spring with an incredible .762 winning percentage (503-157). He has coached 185 players who have gone on to play in college, and 17 who have played professionally.
Email Gerry Jackson at gjackson@catholicreview.org
Copyright © 2022 Catholic Review Media

print