The love of Ido David's life is volleyball.
That love story, however, began by chance.
One of his fourth grade teachers had started a volleyball club, but David, who described himself as a lazy kid, didn't play sports.
Nevertheless, the teacher noticed how tall the now 6-foot-7 David was and encouraged him to give volleyball a chance.
"I was very bad, but I fell in love with volleyball, and until this day, I'm in love with volleyball," David said. "It's my biggest love, my biggest passion in life."
The now UCLA men's volleyball freshman outside hitter/opposite grew up in Israel – a country where volleyball isn't very popular, according to David.
Like thousands of other international student-athletes across the country, David chose to move across the world to attend college while pursuing his passions in the United States.
The freshman said the US and Israel have different cultures and appreciation surrounding professional athletics, especially for a sport with less popularity such as volleyball. In countries where being a professional athlete isn't as respected, David said athletes often have to take on other work to make a living.
"(An American professional athlete) doesn't need to work in another job," David said. "He can focus 100% in this sport and become the best that they can."
David's goal after graduation is to play for a European club, allowing him to pursue volleyball full time. But David said it was difficult to find other people back home who understood and played the sport he loves at a highly competitive level.
While David found volleyball to be significantly more popular in the US than in Israel, UCLA men's tennis freshman Alexander Hoogmartens had the opposite experience with his own sport.
Hoogmartens said he noticed NCAA tennis matches don't draw the same crowds as those in his home country of Belgium.
"I asked some other players here on the team, … 'Why are there not many more people watching our matches?' because in Europe it's always so packed," Hoogmartens said. "They told me, 'Yeah, tennis is not the biggest sport here in the US'"
Playing for the Bruins has also come with a learning curve for Hoogmartens, who said he is used to training one-on-one with a coach. He now practices with a team of 14 players and three coaches and added that he is still getting used to the change, which he sees as a positive one.
"It's a good different," Hoogmartens said.
But the team environment isn't a new experience for all international student-athletes.
In fact, some are especially sought after because of their experience playing on a team, according to UCLA women's golf coach Carrie Forsyth.
Forsyth said most American golfers are only familiar with playing as an individual, whereas international recruits often represent their home countries' national teams.
"They play on a team, so they understand the concept of team," Forsyth said. "That was another sort of positive in terms of recruitment of international players – they're already coming in with team experience. They're great teammates."
Of the 10 women's golfers that don the blue and gold, five hail from outside the US, marking the highest percentage of international student-athletes on any UCLA team this year.
According to the NCAA, 35% of first-year NCAA women's golf players in 2020 were designated as international, making golf the women's sport with the third-highest participation rate of international student-athletes.
Although Forsyth, who is in her 23rd year coaching at UCLA, said she has made a conscious effort to recruit around the world, she acknowledged the same efforts are more unrealistic for sports with less of a presence outside the country.
Yet, while Forsyth thought sports similar to volleyball might be difficult to recruit internationally from the coaching side, for international volleyball players such as David, playing in the US is appealing because of the opportunity for professional development.
"My goal when I came here is to become the best that I can be as a person and as a player," David said. "I know that this is the place for me. I got to be coaching by the (US) national head coach (John Speraw), which is amazing. I never dreamed this could happen to me."
While men's volleyball had 12% of first-year student-athletes across the NCAA considered international in 2020, men's and women's tennis both had about 60% of their first-year players from a country of origin outside the US – the highest international participation rate or any collegiate sport.
Hoogmartens also has professional athletic prospects but said it often takes a long time for tennis players to go pro. Since he has more training to do before potentially reaching the professional stage, the freshman said he wanted to pursue his degree at the same time, leading him to look at opportunities in the US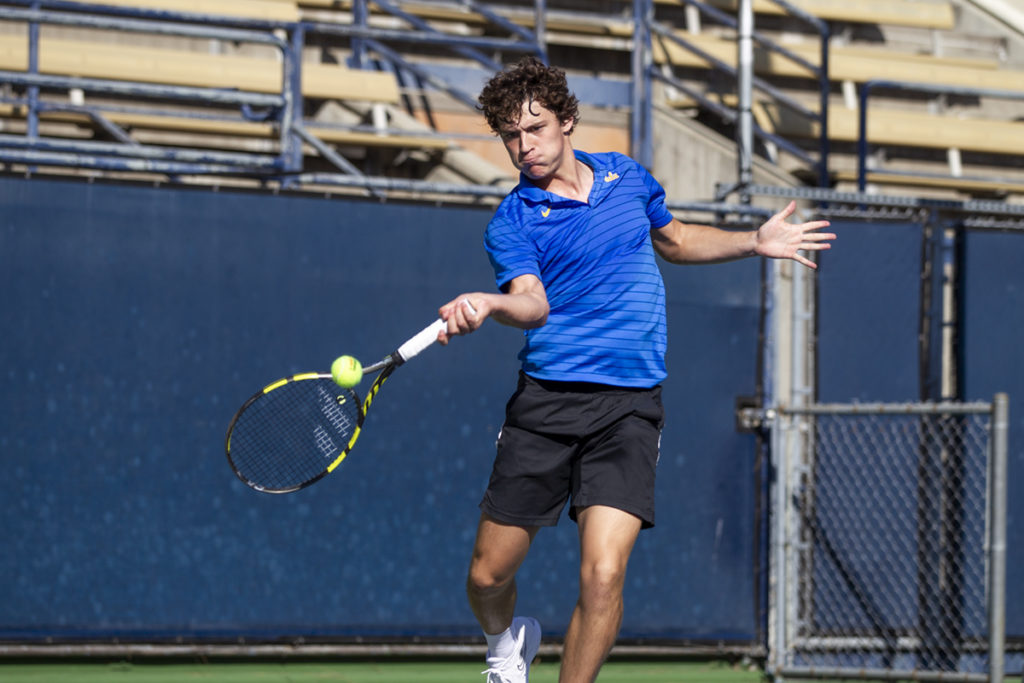 In Europe, many high schools and universities don't have athletic teams associated with the school, making the US unique in that it provides athletes an opportunity to continue their education and athletic training simultaneously.
UCLA stood out to Hoogmartens because of the program's history of successful alumni in the sport.
"It will prepare me for professional life after college," Hoogmartens said. "Definitely, especially with this team. They're known for good professional tennis players after college, so I think I'm in the right environment and the right coaching."
But David knows athletic prowess doesn't last forever. The freshman said he needed something that would stick with him long after any potential volleyball career: an education.
In addition to touting the second-most national championships of any university in the country, UCLA also boasts five consecutive years of being ranked the No. 1 public university in the US by US News & World Report.
"The level of the school here is the best that you can ask for, the level of volleyball is the best that you can ask for, the facility of everything around – the food, the gym, the lifting, the treatment, the training room , the treatment room – everything is the best," David said. "So if I want to become the best person, the best player that I can be, I truly believe that I need to be in the best place there is. And for me, UCLA is the best place."
So far in his freshman year, David has already begun to make a name for himself, earning AVCA Division I-II Men's Player of the Week and Mountain Pacific Sports Federation Offensive Player of the Week in February on the No. 1-ranked men's volleyball program in the country.
Ranked as the No. 59 men's singles player in the country, Hoogmartens is currently the only ranked Bruin and has primarily played in the team's No. 2 singles spot.
While living thousands of miles away from their friends and family has been challenging for Hoogmartens and David, the choice to pursue the sports they love thousands of miles away from home was surprisingly easy.
When asked why they picked UCLA, the two had the same answer.
"Why not?"