Two more area high schools have hired varsity basketball coaches. Batesville's new girls coach is Mitchell Taylor who takes over for Bryan Helvie. Helvie coached the Lady Bulldogs for three season and remains on as athletic director.
Taylor is a Batesville alum and former Bulldog basketball player under current boys' head coach Aaron Garrett. After graduating from Indiana University, Taylor began his teaching and basketball coaching career at Brownstown starting at the middle school and freshman levels.
In the fall of 2021, Taylor returned to Batesville to teach sixth grade science, coach boys varsity tennis and girls JV basketball. He now heads the high school girls program.
(A full release on the hire from Batesville Community School Corporation appears at the bottom of the article.)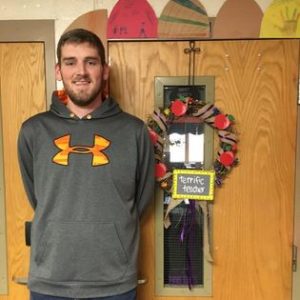 And Milan High School welcomes Matt Pickerill as its new boys varsity basketball coach. Pickerill replaces Randy Combs who is retiring from both coaching and teaching. Combs taught in the Milan school system for 28 years and coached during 18 of those.
Pickerill is an Eastern Pekin High School and Indiana University Southeast grad. He had about 10 years of freshman and junior varsity basketball coaching experience for taking the reigns of the South Putnam boys varsity program for a year.
Pickerill is someone his players will look up to, literally and figuratively. He's a seven footer. His coaching philosophy is to increase defensive pressure and run an up-tempo offense. Pickerill will teach fourth grade.
Official Mitchell Taylor press release from Andy Allen and the BCSC.
BATESVILLE, INDIANA — Batesville High School (BHS) alumnus Mitchell Taylor has been tapped for the girls' varsity head basketball coach position beginning with the 2022-23 academic year, announced Andy Allen, BHS principal. Taylor brings to the position a wealth of experience both as a former BHS basketball player and as a coach at Batesville and other schools.
"The girls' basketball program is fortunate to have a player and coach like Mitchell Taylor leading it," Allen said. "He will bring new energy to the program, guiding our high school players by drawing on his personal knowledge of the game and his prior coaching experience."
Taylor attended Batesville public schools beginning in sixth grade, playing basketball during high school under current BHS boys' varsity coach Aaron Garrett. After graduating from BHS in 2013, Taylor attended Indiana University, returning home to give back to the basketball program as a volunteer coach during the summers. After receiving his Bachelor of Science degree in secondary education with a concentration in life sciences in 2017, he began his teaching career in Brownstown, Indiana, where he taught a variety of high school science classes while coaching middle school and high school (freshman) basketball as well as boys' varsity tennis.
"After moving to Brownstown, a small town just outside of Seymour that is similar to Batesville, I found my footing as an educator and had a plethora of mentors who helped guide me into becoming the educator and coach I am today," Taylor explained. "I am grateful for the opportunity they gave me as a bright-eyed first-year teacher/coach and for all they taught me along the way."
In the fall of 2021, Taylor was offered the opportunity to teach sixth grade science at Batesville Middle School (BMS). With the new teaching position, he also took on coaching duties for boys' varsity tennis and girls' junior varsity basketball at BHS, jumping back into the BCSC community both in the classroom and on the courts.
"It was a difficult decision to leave Brownstown after garnishing relationships with such great people there, but I knew I always wanted to come back to Batesville and one day take over a basketball program of my own," Taylor said. "After a year as the junior varsity coach, I am ecstatic to take over the girls' basketball program. I take pride in this community, its schools, and its people, I am excited to lead these young women who are involved in the program. I will do everything in my power to represent Batesville in the right way and lead this program in the right direction.
"My goals are simple: I want to teach the game of basketball in a positive way, make the people of Batesville excited about our girls' basketball program, and get the program on the right track," Taylor continued. "When I was very young, the Batesville girls' basketball team was competing for a sectional title year in and year out. I want to get the girls' program back to where it was and continue the storied success it has had, dating all the way back to the 1980s with the Lamping sisters. I'm looking forward to getting started."
A video interview with Taylor is available at https://youtu.be/ibrkOA91P84 for those who would like to learn more about his plans for the program.