The dawn of fixed-odds wagering at Monmouth Park may be only five racing days old, but already two of the main claims made by the people behind it have proven to be true.
As officials predicted when Monmouth teamed with its partner in the venture, Australia-based BetMakers, wagering through a brand new format for American fans has been minimal in its initial days with betting available only on-track at the Jersey Shore venue. Yet for those customers at the track placing fixed-odds wagers, they have been presented with numerous opportunities for great wagering value as the closing payoffs on winners have exceeded the pari-mutuel prices virtually 70% of the time.
"We knew there will be slow growth because for now the wagering is limited, but it's an exciting growth opportunity for us and the entire racing industry in the United States," said Dennis Drazin, the CEO and chairman of Darby Development which operates Monmouth Park . "Most people are telling me they are spending some time shopping and finding better payoffs, which is gratifying to hear."
Fixed odds, a staple overseas in Europe and Australia, allows a bettor to lock in odds and payoffs. While those odds can rise and fall during the wagering period, much like sports betting, bettors are assured of their payoff. In contrast, in pari-mutuel wagering someone can bet on a horse at 3-1 and then watch those odds rise and fall before they wind up with the final odds when the pools close.
At the current time, win, place, and show fixed-odds wagering is limited to about six windows at Monmouth Park that usually accept bets beginning about 24 hours before the race. That explains why the daily handle for fixed-odds has been in the range of tens of thousands of dollars, but once Monmouth and BetMakers can offer the wager online and add additional American and international tracks, officials are confident that figure will jump dramatically.
Sign up for BloodHorse Daily
Horses race down the stretch at Monmouth Park
"The first weeks, months, even year, has always been about a gradual start, creating the system, making sure everything works right," said Dallas Baker, head of international operations for BetMakers, which manages the wagering for Monmouth. "When you launch something like this there is always going to be a few bugs in the system. Nothing major that's prevented the flow of wagering, but what you want to offer is the gold standard to your customers. We're getting everything up and running and we're almost there. Maybe we're a few weeks away, but our goal is to have everything perfect by Haskell Day (July 23) with more tracks and online wagering. That's the challenge we have put on ourselves."
Monmouth had hoped to introduce fixed-odds on the May 7 opening day of its meet, which coincided with Kentucky Derby Day and promised to feature one of the biggest crowds of the year. Unfortunately, a deluge of rain forced the cancellation of the first Saturday in May card and on-track attendance for the two days of racing per week since then (Saturday and Sunday in May) has been minimal. Yet Baker, who has been on-hand for each day of racing, sees some optimistic signs in the way a small but growing number of people are beginning to embrace the bet and the notion of shopping for the best possible odds.
"We're not setting any world records with the wagering. We didn't expect to. Yet there's a good feeling for it on-track. I see more people getting their heads around it every day," Baker said. "They see the impact it can have on value pricing. Fixed odds will not give you the best price every time but it gives you more options to find the best price. It enhances the customer experience."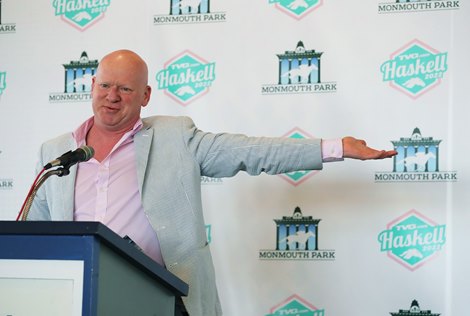 Dallas Baker
As for the fixed-odds prices, of the 46 races over the course of the first five days at the meet (May 8-22), the closing fixed-odds price on the winner was higher than the pari-mutuel price in 32 of them (69.6%). A total of 11 had a lower price (23.9%) and three had the same price (6.5%).
In 31 races where the data on highest and lowest fixed-odds prices were available, in 23 of them the highest fixed-odds price exceeded the pari-mutuel odds (74.2%). In seven instances the highest price was lower than the tote price (22.5%) and on one occasion the two sets of odds were identical (3.2%).
Conversely, at the low point in the fixed-odds wagering cycle, only 10 of the 31 winners (32.2%) had better payoffs, while 18 were lower (58.8%) and three were the same (9.7%).
As a prime example, in the second race on May 8, Kingdom Queen won and paid $18.20 to win in pari-mutuel wagering. In the fixed odds pools, she was 20-1 throughout and paid $42 to win.
"Fixed odds is a fantastic thing for bettors," said Monmouth Park handicapper and analyst Brad Thomas. "There's no doubt about it. It is something the racing industry in this country should have been involved with many years ago. Tom Ainslie was a humongous proponent of this 40 years ago. It shows how the racing industry in our country tends to be far behind the times, which is sad. But at the same time give Monmouth Park credit for being the first to pursue this."
Though the sample size is small, so far fixed odds has been a blessing for chalk players with bettors who wagered on horses that went off at even money or less on the toteboard. In 15 such races, including horses who did not win, all 15 of them featured fixed-odds closing prices that were higher than the horses' pari-mutuel odds.
In 10 races where the fixed odds were charted throughout the betting cycle, that 100% figure was naturally applied to the high point while the lowest price beat the tote eight times for an 80% rate.
While the differences in those odds-on payoffs may seem small and inconsequential, they can surely add up.
For instance, in the seventh race on May 21, frippet paid a tiny $2.20 to win on a $2 bet. Yet his closing fixed-odds price was $2.70. Because of that differential, while a $50 win bet through the tote paid $55, the final fixed-odds payoff was a far more generous $67.50 on what appeared to be a sure thing on paper.
"Those differences are huge," Thomas said.
While a 50-cent difference might not cause a $2 bettor to blink, original house rules enable handicappers to make up to $5,000 in profit before bets have to approved by BetMakers' risk management team. Even then, the bet can still be approved. That means a bettor can conceivably bet $4,000 on the $2.70 horse and make $1,400 in profit without fear of lowering the odds as would be the case in pari-mutuel wagering.
"If you can make what seems like small extra payoffs every day, like a domino effect, in time it will add up to a considerable amount of money for the bettors," said Bill Knauf, Monmouth's vice president of business operations.
In general, fixed-odds also eliminates the exasperation of watching pari-mutuel odds shrink in the final minute—or after the starting gate opens. in one case, Golden Grant won by 5 1/4 lengths after dropping from $6.60-1 odds ($15.20 to win) to $3.40-1 ($8.80) in the final minute before post time for the fifth race on May 15. Meanwhile, his closing and highest fixed-odds price was 7-1 ($16) with the low point checking in at 7-2 ($9.20).
While a bettor needs to monitor the prices to derive the maximum value from fixed odds, the potential reward of a more lucrative payoff can make it worthwhile. With Golden Grant, the difference in a $50 bet was a $220 tote payoff and $400 with a locked-in 7-1 price.
Conversely, though, some longshots have paid less through fixed odds. In the eighth race on May 15, Royal Urn paid $37.20 (17-1) to win through the tote taking the John J. Reilly Handicap. In the fixed-odds betting, he had a high price of 16-1, a low of 8.5-1, and a closing price of 12-1.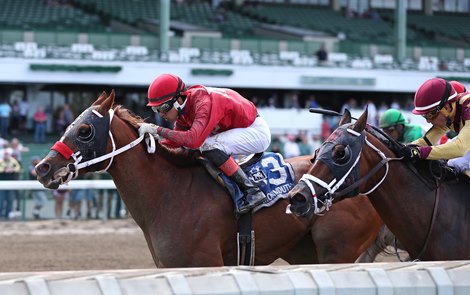 Royal Urn wins the John J. Reilly Handicap at Monmouth Park
While Monmouth shows fixed odds on monitors near the betting windows and its new infield video board, officials agree that the impending launch of online wagering and more on-track wagering spots will make monitoring the odds a much simpler task.
"We only have fixed-odds in two areas of the track so when we get self-service up to speed we'll make it easier for everyone," Knauf said. "We're confident this can snowball."
One of the new kinks Monmouth is facing deals with races coming off the turf. At the moment, bettors can get a refund on their tickets prior to post time, should they want to, if they bet on a horse in a turf race that is switched to the main track. Those are the only times fixed-odds bets can be canceled.
Knauf said Monmouth is currently working with the New Jersey Division of Gaming Enforcement to enact a new house rule in which all bets on a turf race are voided when the race is moved to the main track and a new wagering pool is launched for it as a dirt race.
"It's a tough one," Knauf said. "Some people want to keep their bet. Some want a refund."
Yes, there are indeed some different opinions on the matter, which makes all the sense in the world for a groundbreaking wagering format that centers on monitoring different odds.
†