Max Euwe (May 20, 1901-November 26, 1981)
Max Euwe was born on May 20, 1901, in Amsterdam, Netherlands. Although the family was only of modest means, Euwe was fortunate to have chess-loving parents. He and his five siblings learned chess at an early age, and Max, the second of the brood, was said to be playing adults at the age of 4. He won his first tournament at the age of 10, and, at 12, joined the Amsterdam Chess Society.
Euwe's earliest impression was of Frank Marshall holding a simultaneous exhibition as a guest of his club. He was only a spectator at that time, but the following year he was a participant in another exhibition given by Te Kolste. Euwe won, scoring his first victory against a master. The year was 1914 and in far-away Russia, all the world's greatest masters were playing in the famous St. Petersburg tournament. The transmission of the games across Europe inspired the young Euwe to work even harder.
Euwe competed in tournaments regularly, and, by the age of 15, he won the "B" group of his country's national championship. World War I, however, brought chess to a halt.
The Netherlands emerged from the war less torn than other nations, and this led some strong European players to seek asylum there. Among these were Emanuel Lasker, Richard Reti, Geza Maroczy, Siegbert Tarrasch and Saveilly Tartakower. The presence of these outstanding masters stirred chess in the Netherlands, which could have only benefited Euwe. Maroczy, in particular, became Euwe's teacher and lifelong friend.
In 1921, Euwe won his first title as Dutch champion, and drew a 12-game match with Maroczy. All the while, he had tended to his studies, had earned his degree in mathematics at the University of Amsterdam, and had gained a teaching post. Despite the significant competitive achievements, Euwe decided to pursue a doctorate in mathematics and put his aspirations on hold.
Euwe earned his doctorate in 1926, and married in the same year. He was now a two-time Dutch Champion, having won his second title in 1924. Euwe's Dutch supporters, sensing his potential, organized a group that would oversee his further development until he could vie for the world championship. This group has been loosely known as the "Euwe committee."
The committee immediately worked to pit Euwe against another strong player, and chose Alexander Alekhine, who accepted the challenge as preparation for his world championship match against Capablanca the following year.
Alekhine was expected to take the 10-game match easily, as he had been thoroughly dominant on his way to the championship. He had to fight tooth and nail, it turned out, and only by taking the last game did he win the match, 5.5-4.5.
In 1928, FIDE, then a new organization, organized two 10-game matches between Efim Bogoljubov and Euwe. Supposedly, it was for the right to challenge Alekhine, who had defeated Capablanca in their world title encounter in 1927. Euwe lost these matches by the same score, 4.5-5.5. Bogoljubov moved on to challenge Alekhine in 1929 and 1934, but lost lopsidedly.
Euwe won the Hastings edition of 1930-31 ahead of Capablanca, after which the Euwe committee arranged a 10-game match between them. Capablanca was eager to prove that he was still a title contender and won, 6-4, but Euwe proved a difficult opponent, missing two wins that would have leveled the match.
Hastings Tournament 1930-31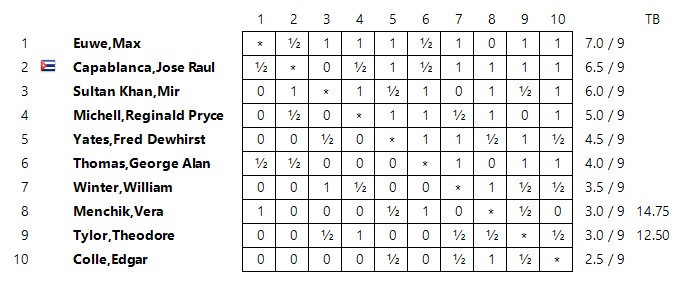 In 1934, Euwe and his committee worked to issue a challenge and arrange a world championship match with Alekhine. FIDE was then foisting an emerging star in Salo Flohr as the most logical contender, but Alekhine had the right to the title and chose to accept Euwe's challenge. Euwe and Flohr had played a 16-game match two years before that ended drawn.
Max Euwe ready to face Jose Raul Capablanca
A couple of months later, both Alekhine and Euwe played in Zurich 1934, the result of which whet everyone's anticipation of the match. Alekhine and Euwe finished first and second respectively, but Euwe defeated Alekhine in their individual encounter.
Zurich Tournament 1934

Euwe's preparations for the 1935 world championship match were the most intense that he ever had to undertake. Alekhine was the overwhelming favorite, and Euwe understood that his theoretical and physical preparations had to be very thorough if he was to make the most of his slim chance. Studying Alekhine's games, Euwe noticed that the champion had a tendency to over press where he was only equal out of the opening. Euwe set about developing a serious opening repertoire, a task which he called "titanic."
Alekhine took an early 4-1 lead in the 30-game match, and still led by two after nineteen games. Euwe's composure, however, allowed him to claw back and take four games out of the last eleven games to eke out a 15.5 to 14.5 victory and become the 5th world champion.
The 1935 World Championship Match

Quite a number of reasons have been given for Alekhine's loss, from his underestimation of Euwe to his drinking problems. The 7th world champion, Vassily Smyslov, however, may have been one of the first to understand the true worth of Euwe's achievement when he said: "Nothing accidental happens in life; whatever form Alekhine was in then, a match against him could be won only by a master of the highest class. Euwe played better and he rightly became champion."
Max Euwe playing black against Alexander Alekhine
Alekhine had been prudent to assert a right to a rematch in the event of his defeat as one of the terms of the 1935 match, and wasted no time claiming it. While previous champions evaded dangerous opponents, Euwe readily agreed.
Alekhine was quick to fix whatever were his shortcomings in the first match. Entering the world championship of 1937 hungry for the title he had lost, he took the match 15.5-9.5.
Euwe remained one of the world's top players after his two-year reign. He placed joint third in the great AVRO 1938, and played a 14-game match with Paul Keres in 1940 which he lost narrowly, 7.5-6.5. In Groningen 1946, he played what to him was the tournament of his life, placing second behind Mikhail Botvinnik. He also participated in The Hague 1948, where Botvinnik took the chess crown left vacant by Alekhine's death. Finally, he bid farewell in the candidates' tournament of Zurich 1953, where he performed creditably in the first half, but faded in the second against the stars of the new generation.
Groningen Tournament 1946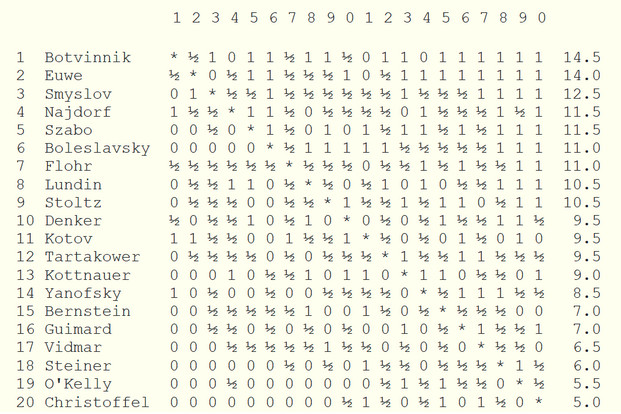 When Euwe called it a career, he had won 102 tournaments, 12 Dutch national titles, the most in his country's history, and had played the top board in seven Chess Olympiads for the
Netherlands. He also wrote about 70 chess books, two of the most popular of which are The Road to Chess Mastery and Judgment and Planning in Chess.
After his playing days, Euwe became a professor in 1964, and this he called a happier moment of his life than when he won the world title in 1935. He also became FIDE President in 1970 and served for eight years. He was known to be a principled President who always stood his ground, quite unswayed by powerful member-nations such as the Soviet Union. Among FIDE's milestones in his tenure was the successful staging of the 1972 world championship match between Robert Fischer and Boris Spassky. If not for Euwe's deft handling of the controversies that plagued it, the match would have likely been aborted.
With all his accomplishments as an amateur that would make even the grittiest professional proud, and his service to chess as the highest administrator of its governing body, Euwe, indeed, was a remarkable man who deserves his distinguished and esteemed place in chess history.
games
Euwe vs. Reti – In 1920, the young Euwe played a four-game match against Richard Reti, his first against a world-class opponent. His victory in the third game is a fine demonstration of the Hypermodern game against a leading advocate of the Hypermodern school himself.
Botvinnik vs. euwe – Euwe was always a difficult opponent for the great Botvinnik. Here he grinds down the future world champion in the endgame.
Euwe vs. alekhine – The famous Pearl of Zandvoort. Euwe's clear, logical style and superb calculation are on full display in his best game of the 1935 world championship.
Geller vs. euwe – Euwe played two brilliant games in Zurich 1953, his farewell tournament. Here he demonstrates active defense with a deflecting rook sacrifice, and turns the table on Geller.
Euwe vs. Najdorf – The other half of Euwe's brilliant game in Zurich 1953. Euwe navigates through the high complications by intuition, a less appreciated facet of his game.
---

Master Class Vol.3: Alexander Alekhine
On this DVD GMs Rogozenco, Marin, Müller, and IM Reeh present outstanding games, stunning combinations and exemplary endgames by Alekhine. And they invite you to improve your knowledge with the help of video lectures, annotated games and interactive tests
---
Left