The brainchild of Edmonton's Firefly Theater and Circus, known across the country for its aerial circus arts and training of new artists, the festival lies somewhere between Big Top antics and the huge spectaculars of a Cirque du Soleil production.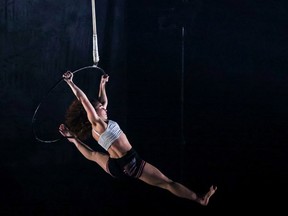 Reviews and recommendations are unbiased and products are independently selected. Postmedia may earn an affiliate commission from purchases made through links on this page.
Article content
There's a festival making its live debut in Edmonton this weekend, and it's a unique one at that. From Friday through Sunday afternoon, campus Saint-Jean's Timms Theater will be resonating to the performances of the Alberta Circus Arts Festival, surrounded by a raft of ancillary events starting Thursday.
Article content
It's the brainchild of Edmonton's Firefly Theater and Circus, known across the country for its aerial arts and training of new artists. This is not the circus of the Big Top and animals, nor the big-budget spectaculars of a Cirque du Soleil production, but, says the festival's executive producer, Annie Dugan, "somewhere in the middle."
The festival's extraordinarily talented artists, from across Canada and beyond, will meld aerobatics with dance, theater and storytelling, use traditional and new circus skills and apparatus, and aim to both surprise and entertain.
"You can expect to see amazing human beings that are graceful, powerful and awe-inspiring," says Dugan. "You're going to be able to see their expressions and you're going to be able to see their sweat and their breathing and their triumph over the skills they've been working on, some for 20 years."
Article content
Marsha Kennington, the celebrated Canadian aerialist and acrobat who co-founded Ontario's first circus school, is kicking things off with a free keynote speech at 3 pm Thursday at the campus Saint-Jean auditorium.
The first festival performance at the Timms is being presented Friday at 7:30 pm by Montreal's Barcode Circus Company in its Alberta debut. Titled Sweat and Ink, it intertwines four stories exploring memory through acrobatics. Each of the four artists competes in technical prowess and, according to Barcode's statement, "it is a show to make you gasp, cry, laugh and wonder."
Barcode has been touring Europe with this show, to considerable acclaim.
"You're going to see three people flipping a fourth person 20 feet in the air," says Dugan. "There's no safety gear. There are no crash mats. This person flying in the air is going to come down on these three people. That's their storytelling and they're doing it through physicality, through video projections, through imagery."
Article content
It is the turn of Firefly Theater and Circus itself in a late-night Cabaret at the Timms at 9:30 pm that same night. Artists, mainly from Alberta, include Calgary's hula hooper Kate Ryan. She's the Canadian director of Spark Circus, the social circus NGO, and the first Canadian ambassador to Hoopologie, the world's most revolutionary hula-hoop company.
There's Edmonton's Cirquetastic with its invention of a cross between a chair and a trampoline. Vancouver's Sidonie Adamson performs with a unique ariel apparatus that she co-created, called the Cascorde, which indeed is a cascade of ropes.
A different kind of show can be seen on the Western Green space of campus Saint-Jean on Saturday at 2 pm Calgary's Léda Davies, a circus-theatre practitioner, and Toronto's Holly Treddenick, a circus-dance artist, will be presenting one-person shows titled respectively Fish at the Bottom of the Sea and In the Fire. The works are still in progress, and the performances will be followed by 'Talkback on the Creative Process' with the artists.
Article content
Saturday evening has Winnipeg's Street Circus at the Timms. Street Circus — artists Daniel and Kimberly Craig — has performed all over the world, and regularly appears at the Fringe. It has combined with internationally acclaimed and award-winning circus artists from Winnipeg and beyond to create a family-friendly show titled Throwback, inspired by the music, movies, games and culture of the 1980s and 1990s.
Throwback will also close out the festival with a repeat performance at 2 pm on Sunday.
For those who want to try out a little bit of circus magic, there are free outdoor stilt workshops. The first is a drop-in on Saturday at noon, the second — ominously titled Going Higher — on Sunday at noon, if you sign up at the end of the first workshop.
Article content
On Friday from 5-7 pm the festival is picking up on an idea created by the Quebec circus community during the pandemic. They gathered circus artists to mingle in a 'happy hour' online with the general public.
The Alberta Circus Arts Festival is going one better by having a live happy hour titled 5@Cirque, giving you the chance to meet and talk with circus performers at La Cité Francophone's Café Bicyclette.
For those more serious about taking part in circus arts, there's a series of workshops Thursday through Sunday, including a contortion and a hoop workshop. Registration is required for these.
As Dugan says, "There are three dedicated circus schools in Edmonton. Come and see what the future could hold for you!"
yegarts@positmedia.com
PREVIEW
Alberta Circus Arts Festival
Organization: Firefly Theater and Circus
Where: Campus Saint-Jean, Timms Theatre
When: June 23-26
Tickets and info: albertacircusarts.com