The Gay Gourmet–
By David Landis–
As readers of this column know, I've sung the praises of a Carmel getaway before. It's slightly over a 2-hour drive from the city, has a gorgeous white sand beach, inviting architecture, good restaurants, and best of all is dog-friendly. Given that COVID isn't going anywhere, I recently returned to this charming village and am recommending a few new places worth visiting. Among those: Shearwater Tavern at the Carmel Mission Inn in Carmel, Lucia Restaurant at Bernardus Lodge and Spa in Carmel Valley, and Stokes Adobe in Monterey.
Let's start with the Shearwater Tavern. Located in the recently renovated, mid-century Carmel Mission Inn, this eatery showcases upscale bar food that invites the community to gather. The beautifully-designed interior space is modern with a nod to the 1960s. We were with our dogs, so we opted to dine outside on the landscaped patio. From start to finish, this is an establishment that knows what it's doing, where every menu item delights.
Craft cocktails reign supreme so I had to try the Bahia Busy Bee, with Hendrick's gin, Cointreau, lime, and a frothy egg white top. I'm not usually one for signature cocktails since I love my Negronis, but I have to say this one is addictive: sweet (but not too much), with a lingering and lovely aftertaste.
For starters, we had the tempura fried green beans with a chili dipping sauce: crispy, fresh, non-greasy, and the sauce had the right amount of kick. In other words, perfect pub food to accompany the cocktails. The beer and wine menu tends toward local California varietals and breweries with just a few well-curated international choices as well. next-up? The house-made tater tots—definitely not Ore-Ida! These are a larger size, with shaved parmesan, and accompanied by a frisée salad tossed with sherry vinaigrette. We chose to forego the truffle oil, which allowed the potato taste to shine through. I'm a bit of a carb-aholic, so we had to sample the Parker House rolls. These seem to be ubiquitous on menus these days and in most places, they're just "meh." Not so at Shearwater. Baked to order and piping hot, these tasty morsels are soft and flaky, served with a honey spiced butter and sea salt.
For entrées, we first tried the grilled, medium rare salmon, served uniquely with a pea risotto and a cherry wine gastrique, which leveled the playing field between sweet and savory (a carrot herb salad completed this dish). Finally, we shared the Tavern Burger, juicy and filling but I would ask the chef to cook it slightly rarer than you think. All in all, this restaurant needs to be on your Carmel "go-to" list.
Another recent change in the Carmel Valley is at Lucia (the restaurant at the Bernardus Lodge & Spa), home to a fairly new chef, Christian Ojeda. This talented man also had stints at Joel Robuchon in Vegas and the now-shuttered Fleur de Lys in San Francisco. Our venture to Lucia was a relaxing and rejuvenating mid-afternoon repast in the warm Valley sun—just like taking a mini-vacation.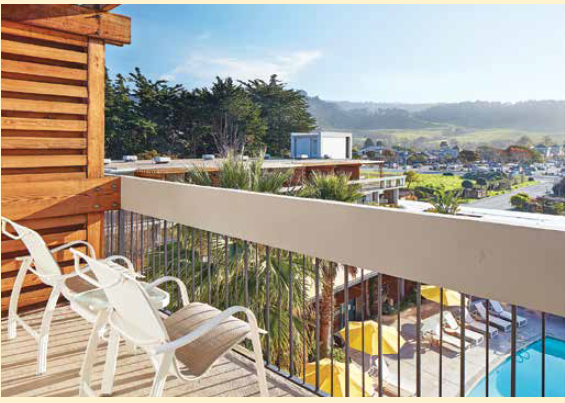 It starts traveling up to the property via a winding road, lined with Provence-style lavender. When you see the stone building, you might just think you're in Tuscany. The large-sized pavers and a stone-covered outdoor fireplace dominated as we sat on the patio with our pups. The garden view (complete with a croquet field) is serene and tranquil—a transformative experience. Another plus at the table are Frette linens, a nice European touch.
We started with a half dozen Beausoleil oysters accompanied by a clean mignonette and lemon. The shellfish were absolutely fresh and a perfect complement to my white Burgundy wine ("Cuvee Saint Vincent") and my husband's still Provence Rosé ("Peyrassol") by the glass (the by the bottle wine list is impressive, too). From there, we shared a piquant Caesar salad with leafy Romaine and fresh anchovies straight from the nearby sea; the crispy croutons added just the right amount of crunch. We sampled the special pizza of the day, which sported a thicker crust topped with bacon, zucchini, red pepper, arugula, and fontina—the pepper provided a zing to a healthy pizza offering. For dessert, a berry crème brûlée was a perfect ending to a lovely meal. All in all, Lucia is one of Carmel Valley's best dining choices, plus the atmosphere and warm weather can't be beat.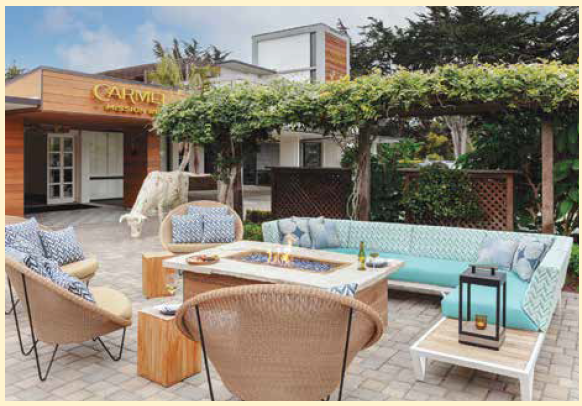 Finally, we had a delicious dinner at the historic and newly-re-opened Stokes Adobe in Monterey. Built in 1833, it's the site of the former "see and be seen" Gallatin's, one of Monterey's most popular and classy restaurants. In its heyday of the 1950s and '60s, Gallatin's hosted the likes of Frank Sinatra, Bob Hope, and Dean Martin. Supposedly, it's haunted. The décor pays homage to the history but with a modern interpretation that is inviting, contemporary, and warm.
We dined with our pups and friends Michele & Karl on the patio under a century-old cypress tree; it felt like we were enveloped in a magic garden. The creative cocktail list includes such specialty drinks as a Stokes Negroni (with Amaro), which wasn't to my liking, but then I'm a purist. We opted for a white Burgundy wine, "La Pepie" Muscadet, from the varied wine list that includes local California wines with a sprinkling of European choices. The menu steers toward Cal-Italian-French: in other words, my kind of food! Our starters included a creamy and rich duck liver mousse with sourdough crostini, a luscious heirloom tomato gazpacho soup, yummy and crispy fried green tomatoes with pickled fennel and a delectable buttermilk dressing, and an unadorned, clean baby green salad with fresh herbs and a sherry vinaigrette. We threw caution to the calorie wind and splurged by also ordering the famed, local Ad Astra bread, grilled to perfection and buttered beautifully—one could make a meal of that deliciousness!
For entrées, we split a flavorful lamb and pork homemade pappardelle Bolognese with San Marzano tomatoes and Parmesan cream, and the double-cut pork chop with port cherry aigre-doux (a California take on the Chinese sweet and sour sauce), dukkah (a Middle Eastern condiment), cocoa nibs, and hazelnuts. The accompanying sauces and spices provided a refreshing take on a typical chop, leaving the palette with a pleasing sense of savory, fruit, and sweet at the same time. For dessert, we ordered the creamy and addictive butterscotch pot de crème featuring whipped crème Anglaise and English toffee; and the berries and cardamon cream with almond cookie crumble. Both left us with sweet memories of dining at one of Monterey's best new restaurants. Best of all, I hear that Michelin will be recognizing this restaurant in its upcoming September guide.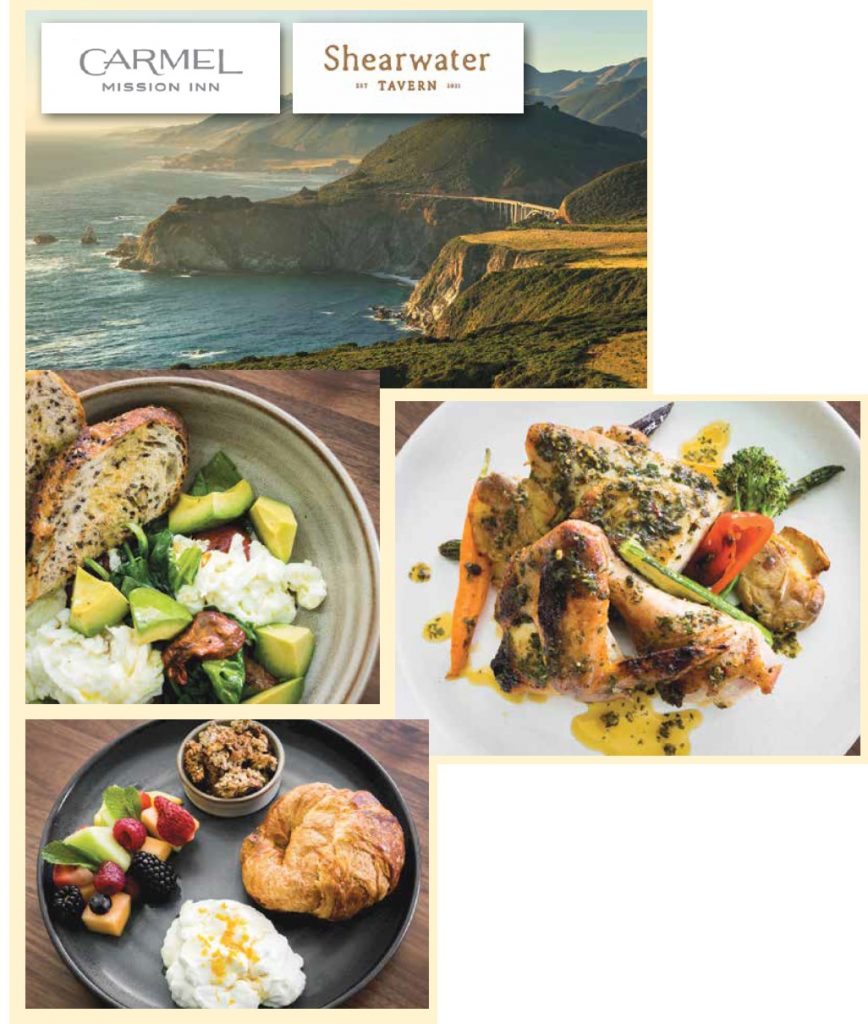 All in all, Carmel and the Monterey Bay area are quickly becoming a foodie destination, well worth a weekend visit.
Bits and Bites
one of my favourites, Scott's Chowder House—featuring some of the Bay Area's best chowders and seafood from the team that includes chef Laurent Manrique—just opened on Fillmore Street in San Francisco's Western Addition. For dog lovers, I've heard their outdoor patio is scheduled for opening soon as well.
A few new olive oils worth mentioning: PRMRYs Enhance, made with a Tuscan blend of olives, is robust and makes for a perfect complement to salads, vegetables, or just plain dipping with bread; and their Transform, made with Coratina olives, has a hint of pepper, which makes it stimulating, yet fragrant. Both will give McEvoy Ranch and California Olive Ranch (two other of my favorites) a run for their money. Also tasty is Sciabica Family California Olive Oilswhich offer such varied flavored olive oils as cold-pressed lemon, basil, garlic, and Mediterranean Medley.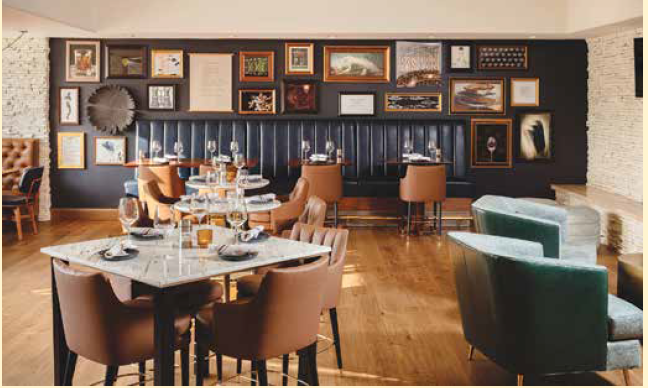 Want to feel like you've taken a trip to Barcelona without the hassle of a transatlantic flight? San Francisco Proper Hotel's Spanish Sundown Series is happening every Thursday through August 25. The summer music series will be accompanied by live music from Spanish rumba to Brazilian samba, and a selection of tapas and aperitifs at San Francisco Proper Hotel's restaurant, La Bande, on the outside patio space. You can enjoy the musical likes of artists Makru, Monica Maria, and the Josh Jones Trio throughout the rest of the month.
The ever-popular Humphry Slocombe ice cream favorite just opened a new store in Redwood City. Just as in San Francisco, look for some of the same boozy offerings, like Glenlivet ice cream with honey-clove caramel.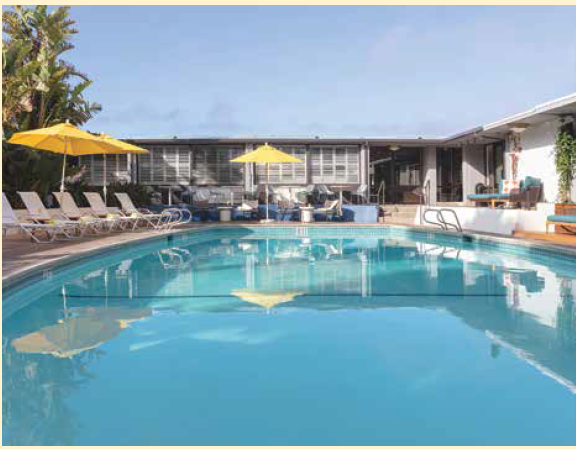 Another Gay Gourmet Favorite, Kokak Chocolates in the Castro, just celebrated its second anniversary. They're offering some great new flavors, including: the "Aloha Tees Truffle" collection (think chocolate interpretations of Hawaiian shirts) and "She Sells Sea Shells," featuring sesame in caramelized white chocolate and strawberry pistachio in dark chocolate. They're available at the 18th Street store but also online.
Chez Noir, a new Carmel-by-the-Sea restaurant opening to watch, is from a star-studded team that includes Johnny and Monique Black (Atelier Crenn, Quince, Per Se, and more). Scheduled opening as of press time is sometime in late August.
And finally, popular Napa eatery Bistro Don Giovanni is opening a second place—yet to be named—at the former Ca' Momi in downtown Napa on First Street. Sadly, there's no scheduled opening date yet.
Shearwater Tavern: https://www.shearwatertavern.com/
Lucia Restaurant at the Bernardus Lodge & Spa: https://tinyurl.com/3ea3hh8d
Stoke's Adobe: https://stokesadobe.com/
Scott's Chowder House: https://tinyurl.com/2hpz6xpt
PRMRY Olive Oil: https://helloprmry.com/
Sciabica Family's California Olive Oil: https://sunshineinabottle.com/
La Bande at the San Francisco Proper Hotel: https://tinyurl.com/ycxbu8nm
Humphry Slocombe: https://humphryslocombe.com/
Kokak Chocolates: https://www.kokakchocolates.com/
Chez Noir: https://www.cheznoircarmel.com/
Bistro Don Giovanni: http://bistrodongiovanni.com/
David Landis, aka "The Gay Gourmet," is a foodie, a freelance writer and a retired PR maven. Follow him on Instagram @GayGourmetSF or email him at: davidlandissf@gmail.com Or visit him online at: www.gaygourmetsf.com
Published on August 11, 2022