"We are obviously conscious of our injury toll but with Folau's one, it was just a body in front, passive part of our attack structure."
A major flaw in the Wallabies' performance in San Juan was handling the Pumas' kicking game, particularly in contestable kicks. On numerous occasions, the Argentinian wings reclaimed high kicks over Australian catchers and surged forward. There was a lack of clear calling and catching on other occasions.
Pumas coach Michael Cheika said it wasn't a specific strategy heading into the game but the team responded to seeing Australia struggle under the high ball early and continued the barrage. The Springboks will have noted the Pumas' success and look to do the same in Adelaide, given contestable kicks are a big part of their game.
"We were very good in the first Test but they were able to get through [in the second]," Rennie said.
"[Emiliano] Boffelli had a field day. He's very good in the air and they put us under a lot of heat. It is an area of ​​concern and something we will work on."
England assistant coach Anthony Seibold noted at half-time on Stan Sport's coverage that the Wallabies weren't protecting the "drop zone", which is where defenders shield the ball catcher by running back to where it will land. It is a tricky area, given referees will watch for players changing their line to block a chaser, but Rennie said they would work on helping the catcher before meeting the Boks.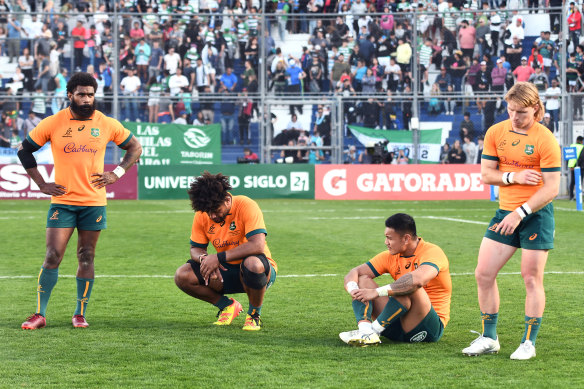 "We have to make sure he can't get through so easily, and you can legally do that, with guys coming back to the zone. You have to make him run around and not get an easy contest on the ball. That happened three or four times [in San Juan]they were able to contest or we weren't able to grab them," Rennie said.
Asked if Australian catchers gradually lost confidence to come forward and take the kick, Rennie said: "It's not so much a confidence thing. We have to be accurate on how we deliver on that [kick receipt]. It's like dropping a pass. If you make a mistake, you bar up and you get it right. We weren't good enough in regards to protecting our guy under the ball and got exposed."
Loading
The Wallabies beat the Springboks twice last year at home but the South Africans are in far better form this year. They battled out an epic two-Test series against the All Blacks while Australia were in Argentina. As usual, there will be no hiding from the physical battle against the Springboks, who execute their game plan better than anyone in world rugby.
"We know they'll be tough. They're a massive, massive team," Rennie said.
"They're very direct and they're happy to defend and give you a bit of ball. But they'll suffocate you. They have really good balance to the game. We certainly got out kicked [in San Juan] and that's going to be important for us going into [matches against] South Africa."
Watch every match of The Rugby Championship on the Home of Rugby, Stan Sports. All streaming ad-free, live and on demand.