Two people separating is never a pretty picture. The only variable is the intensity of how worse it is on a scale of really bad on one end, and incredibly ugly on the other. Perhaps, the divorce of NASCAR's biggest star of his day, Jeff Gordon, comes on the other end of the scale.
ADVERTISING
Article continues below this ad
Gordon got married to Brooke Sealey in 1994, but less than a decade later, they filed for divorce.
And it was the process of their divorce that became pretty nasty. In fact, it was fitting, as bad as it was, that while their relationship began through NASCAR, the end of the relationship also reached NASCAR.
ADVERTISING
Article continues below this ad
In 2003, attorney Terry Young was reported to be handing out subpoenas ahead of the Daytona 500 as part of his process since he was representing Brooke Gordon at that time.
Speaking about this, Ray Evernham called Brooke Shields as someone who "is trying to make a circus of the Daytona 500."
WATCH THIS STORY: Bubba Wallace And Chase Elliott's Wishes Answered By NASCAR Gods As All-Star Race Regains Its Prestige
Jeff Gordon revealed the fate of his relationship with his current wife in a dramatic way
Jeff Gordon had kept his relationship with Brooke Shields pretty secretive during their dating days in the early 1990s. The same was also the case with his current wife, Ingrid Vandebosch, who Gordon began seeing in the early 2000s.
ADVERTISING
Article continues below this ad
However, the way the Hendrick star decided to deliver the news of the next step with Vandebosch was nothing short of dramatic.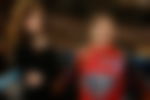 This is so because in 2006, the four-time NASCAR Cup champion organized a croquet event in California. And as the sun was going down, he raised a glass and told everyone, "Ingrid and I are no longer dating."
ADVERTISING
Article continues below this ad
For obvious reasons, this led to an awkward pause, some tension in the air, which Gordon soon sucked out with three words – "We're getting married."